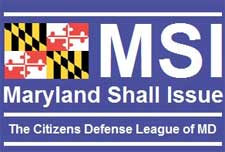 Maryland ––(Ammoland.com)- Last week the Senate Judicial Proceedings Committee passed the Governor's Gun Control bill – SB281 – with almost no modification.
It still licenses owners, forces expensive training, and implements a ban on common firearms backed with serious life-altering penalties, including prison, for even small technical paperwork issues.
Be sure that if these draconian laws pass, some of you are going to be arrested and face jail time, just for possessing a firearm that the state once approved you to own.
The Senate leader – Mike Miller of Calvert County – is pressing hard for fast-track approval of these laws. Mike promised many of his constituents that he would "fix the Governor's bill" before letting it out of the Senate. But it appears now that the "fix" is in: he intends this bill to become law.
Likewise, we have seen Senator Jim Brochin of Baltimore County speak up in this own public town halls and promise the people he worked for that he would not support this legislation unless massive repairs were made, in order to end unconstitutional schemes and to protect his constituents from being arrested. Yet given the chance to force the changes, he demurred and supported them anyway. This bill advances largely on Senator Brochin's last-minute change to support gun control.
The list goes on.
How to Take Action
Over the past few days, scheduling has moved. We know have details to report and action plans that you can implement.
Those who support your rights will be pushing amendments to this bill, and they need your immediate support. The Governor is counting on gun control for his moment in the spotlight. He is already planning the press conference – he wants to recreate the moment Paris Glendening had in the mid 90's, where a fawning press and adoring President sit with him as he signs into law a bill that puts lawful citizens at risk of prison, just for exercising their rights.
The problem is that 4,000 of us showed up on February 6th 2013. More than 1,500 signed up to testify, and that does not include those people who were literally locked out of the building before they could do the same. Our turnout frightened the political elite who rule over us. They cannot maintain order so long as we stand and protest. They cannot pass their laws so long as we look over their shoulder and demand accountability.
Memories are short for these people. They think we have gone away. Now is the time to remind them of our power by literally looking over their shoulder: we need to move into the Senate gallery the next few days and watch them. They need to see us there. They need constant reminder that they are not alone and that we will hold them to account.
Mike Miller is master at his game. He will hold the most important matters for the hours when the newspaper reporters and the news cameras have left the building. He waits until they leave to make their deadlines, then he moves forward the things he wishes to stay hidden. To be successful, he needs to work public law in the shadows.
You are the sunlight that can cleanse that process. You need to light up the phones and brighten days with personal office visits. This is a once-in-a-lifetime event. Make the extended effort to beat these bills back.
First Fight: The Senate 
The Senate goes into session Tuesday at 10:00 AM. They will debate Death Penalty and then Gun Control. You need to find time to get into Annapolis, visit your lawmakers, and then fill in that gallery. Watch them. Take notes. Record them using your phones and MP3 recorders. Update the world in real-time using MDShooters.com and the MSI Facebook page: when key amendments are offered and considered, go live and tell everyone what is happening, and more importantly – who is helping you and who is harming you.
A powerful committee chair recently said in response to our efforts to watch, record and be heard: "Let them. We can wait them out."
They do not think we have the discipline to do this. Let's prove them wrong.
This Week In Detail 
This week will be busy. There is something for everyone, regardless of schedule:
Monday:

– Visit Senators and Delegates in their offices after work hours. Session starts at 8 PM, so you have plenty of time to drive over and wander the halls. Find your lawmaker's office number on mdelect.net, then just show up. Ask for five minutes. If they are too busy, tell the staff you will wait to "walk them to session." The best time to get these folks is the two hours before they go into session.

Tuesday: 

– Session starts at 10 AM. Visit your lawmakers before this time. Sit in the Senate gallery and watch. Gun Control might not come up until afternoon, so if you cannot arrive until lunch time or later – that is fine. This may stretch into the evening. Just plan on watching and waiting them out.

Wednesday:

With enough pressure, they will be forced to continue Gun Control into Wednesday. Session will probably start early, perhaps even 8 AM. Mike Miller has already told his committees to be ready to "clear the calendar" when he calls. We need to be on deck, in that gallery.

Thursday: 

Senator Miller wants this thing voted on by Thursday. We will let you know the schedule as this progresses.

Friday:

The House considers the Governor's bill in a joint hearing. We will update you separately on the House schedule, but we need a turnout much like the one we did on the 6th. We need to be heard.

Friday will offer some new options. No more standing in long lines. We learned lessons from the Senate hearings and have done a lot of work with the House to make this day comfortable. We will have many witness sign-in sheets to avoid lines; the House has reserved all rooms for overflow (the House is also bigger than the Senate); and in a new twist, MSI and other civil rights organizations have reserved the upper floors of the House for our own activities, including a "Public Safety Policy Conference".

We won't repeat the rally – we are going to hold our own hearings, right in the same building as the actual hearing themselves. This time we will not locked out. Lawmakers will be in attendance, and we will empanel the most important people at the heart of this debate: you.
No excuses this week. You have the opportunity to speak, be heard and to make a difference. You just need to take it. There is something for everyone. Stand up, or be pushed down. Your choice.
Special Attention:
If you are a constituent of one of the following Senators, you must contact them via phone, fax or in person immediately. Emails might be ignored, so you need to add the personal touch:
Senator Miller
Senator Klausmeier
Senator Zirkin
Senator Muse
Senator Miller
Senator Middleton
Senator Dyson
Senator Astle
Senator DeGrange
Senator Mathias
Senator Brochin
Don't know who your representatives are? Find them at MDElect.net.
Maryland Shall Issue, Inc.
1332 Cape Saint Claire Road #342
Annapolis, Maryland 21409
240-446-6782
Mission Statement: Maryland Shall Issue is an all volunteer, non-partisan effort dedicated to the preservation and advancement of all gunowners' rights in Maryland, with a primary goal of CCW reform to allow all law-abiding citizens the right to carry a concealed weapon; and to the education of the community to the awareness that 'shall issue' laws have, in all cases, resulted in decreased rates of violent crime.