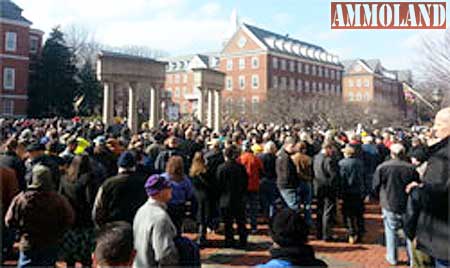 NEWTOWN, Conn –-(Ammoland.com)- NSSF on Wednesday testified in opposition of Maryland Gov. Martin O'Malley's gun-control legislation (SB 281).
The state Senate Judiciary Committee hearing drew thousands of gun owners to Annapolis in opposition of this far-reaching gun-control package.
The firearms industry was well represented by Maryland retailers, manufacturers and ranges. Beretta USA General Counsel Jeffrey Reh addressed concerns about the bill's potential impact on Accokeek, Md.-based Beretta. Unfortunately, the Senate committee alotted only eight hours of testimony despite more than 1,000 people signing up to testify.
The battle in Annapolis will continue for weeks as this bill and many others will be debated. NSSF will continue to be on the ground in the state and will keep our members posted. More about NSSF's testimony in The Washington Post.
About NSSF
The National Shooting Sports Foundation is the trade association for the firearms industry. Its mission is to promote, protect and preserve hunting and the shooting sports. Formed in 1961, NSSF has a membership of more than 6,000 manufacturers, distributors, firearms retailers, shooting ranges, sportsmen's organizations and publishers. For more information, log on to www.nssf.org.