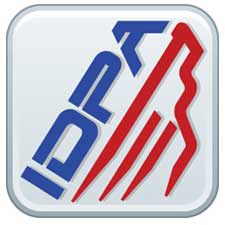 BERRYVILLE, Ark. –-(Ammoland.com)- IDPA shooters looking to experience the excitement and challenge of international competition should look no further than the upcoming Puerto Rico IDPA National Championship taking place in Caguas, Puerto Rico on March 16 and 17 2013.
Hosted by the RL Shooting Club and organized by match director Max Rivera and assistant match director Tom Yost of Smith & Wesson, one of the major match sponsors, this year's Puerto Rico IDPA Nationals will bring together over 150 top shooters from Costa Rica, Mexico, Puerto Rico, the United States and Venezuela.
"IDPA competition is really taking off in Puerto Rico thanks to the hard work of Max Rivera and local IDPA members focused on making the U.S. territory a shooting destination for our competitors," said Joyce Wilson, executive director of the International Defensive Pistol Association.
"Over the last few years IDPA has seen incredible growth and with IDPA clubs in 54 countries the demand for more matches with an international flavor has never been greater," added Wilson. "The Puerto Rico IDPA Nationals gives American IDPA members with little to no experience competing outside the U.S. the opportunity to experience a true international competition without really having to leave the country."
The 2013 Puerto Rico IDPA National Championship will feature a 12-stage course of fire with a round count of 190. Registration for the match is open and slots are still available. The match fee is just $120.
In addition to major match support from Smith & Wesson, the Puerto Rico National Championship is being sponsored by Blade-Tech, Century International Arms, Comp-Tac Victory Gear, Fiocchi Ammunition, Fobus Holsters & Pouches and Uncle Mike's Law Enforcement.
Complete match information, including registration, hotel information and firearms permitting information can be found at www.IDPAPR.com.
For more information on IDPA, the 2013 Puerto Rico IDPA National Championship or to find a club near you, visit www.IDPA.com. You can also connect with IDPA online by following @OfficialIDPA on Twitter, like ShootIDPA on Facebook, watch IDPA TV, or check for regular updates on the DOWN ZERO Blog.