Obsolete Arms and Ammo
By Bob Shell

Apache Junction, AZ –-(Ammoland.com)- Over 40 years ago Weatherby realized that there was a market for a lower price rifle then their famed Mark V series.
So the Vanguard was introduced in 1970. While the original Weatherby rifles were chambered for their cartridges the Vanguard is available in standard chamberings from the 204 to the 338 Win mag.
I have fired various Vanguards in 30-06 22-250 though I didn't get much of a chance to work with the 22 caliber due to a fire. The Vanguard is also available in some Weatherby calibers such as the 257 , which I have also fired. For more info of Weatherby products you can go to www.weatherby.com.
The rifle I have is a Gen ll which has a couple of improvements over the first model. I had an older 22-250 which shot well but was too heavy and the trigger wasn't as good as the newer model. A 30-06 I tested also was heavy though I did shoot quite well. Since the Vanguard is available in the 338 Win Mag , which would require some weight, all of their models and calibers reflected that. A lightweight gun is important to me as my wheels are not what they used to be.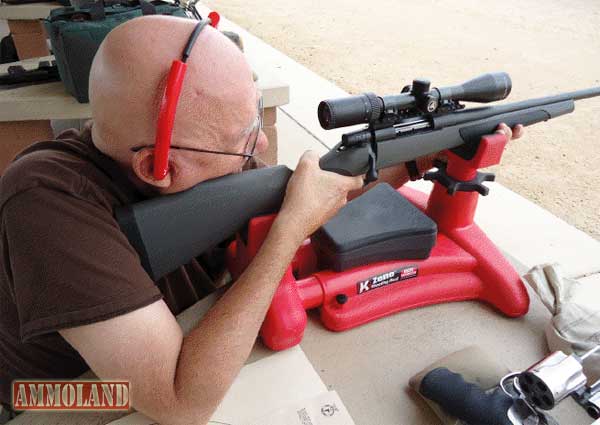 At my request, Weatherby sent me a Vanguard in 22-250, which is my all time favorite 22 caliber centerfire caliber. This caliber has everything going for it with no drawbacks. It has the accuracy and flexibility to meet any need that a 22 can fill. I have even loaded it down to 22 Hornet velocities with good results. It may not win bench rest matches but ½" groups are very obtainable which makes it an excellent long range varmint caliber. Weatherby came out with their own 22 centerfire known as the 224 Weatherby. While a competent cartridge, it has a major drawback. The case is belted and not based on anything else so it is expensive and hard to get. If someone obtains a large amount of cases it is reloadable which will mitigate the problem to an extent. In any event the 22-250 is a superior choice in every respect. These are a few loads I used but each rifle will have its preferences so this is just a guideline.
LOAD – BULLET – VELOCITY – COMMENT
37 X H 4895 50 grain Rem 3678 high es

34.5 X WC 844 50 grain Rem 3583 slow

36 X H 4895 55 grain V Max 3694 nice

36 X H 4895 55 grain FMJ 3695 consistent

39 X H 414 55 grain V max 3551 ok

39 X h 414 55 grain FMJ 3465 slow

36 X 748 55 grain FMJ 3559 fair

A Vanguard action in 22-250
My sample has a two tone composite stock being gray and black. The 24" barrel is a matt blue. The bolt has two large locking lugs and a typical extractor and ejector. The extractor is a small claw type which the cases are ejected with a plunger type found on many rifles. I have shot quite a bit of ammo in various Vanguards and never had any problems with any of them. There are holes in the bolt body, which should deflect gas away from the shooters face in the unlikely event of a case rupture. You can feel safe shooting this firearm.
The trigger as it came from the factory is nice and light and breaks cleanly which is a major aid in accurate shooting. It is a two stage match type and can be adjusted down to 2 & ½ Lbs. The magazine drops down with a button in the trigger guard and is easy to use. The three position safety also works well. Is my gun pretty? No, in fact it leans toward ugly but practical. If you get caught in the rain or snow no big deal with this model. I have examined Vanguards with wood stocks and nicely blued metal but they are more expensive and no more practical. There are many models and options to choose from so there is something for everyone. The Vanguard series 2 has a MSRP starting at $599 and has an accuracy guarantee of 1" or less, using specified ammo. I have found on previous models that the guarantee was always met or exceeded. This specimen is capable of ½" groups with ammo that it likes. Weight is listed as 7 & ¼ Lbs., which seems lighter then the other 22-250 I had. For me lightweight is important as my wheels are not that good any more. Since the rifle has no sights I would like to see it with a scope base installed. I recommend the Vanguard for anyone looking for a good value.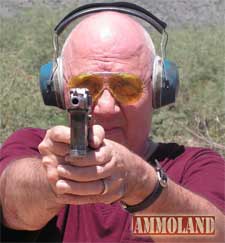 Alpen sent me a 3 X 9 X 40 scope to mount on this rifle. As with previous experience with their products this scope performed to perfection. Optics are crystal clear and this model is a great fit for the caliber. Clear optics will help get the accuracy potential out of a rifle. For my purposes a 9 X scope is plenty. It's not overly large so you can carry it if desired. I used another Alpen scope on a bear hunt last year and the light gathering properties were amazing.
If someone wants a great hunting scope on their rifle I would recommend you take a serious look at their products. For more info you can go to http://www.alpenoptics.com/RifleScopes.html as they also have binoculars and spotting scopes.
About Bob Shell
A Custom Reloader of Obsolete and Antique Ammo, Bob Shell, writes about the subject of Guns, Ammo, Shooting and Related Subjects. Visit: www.bobshellsblog.blogspot.com