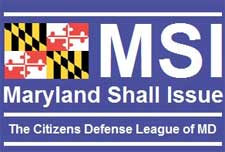 Maryland ––(Ammoland.com)- Maryland Shall Issue regrets to report that the 4th Circuit Court of Appeals has reversed the District Court's ruling in the Woollard case and upheld Maryland's carry permit laws as constitutional.
Opinion Here
We are deeply disappointed in not only the decision, but in the reasoning behind it. Despite numerous studies including those cited in the gunfacts.info publication, the 4th Circuit believed the word of appointed police chiefs over independent and unbiased researchers.
Highlights of the Opinion:
People cannot exercise their right because a thief might take their gun.
People cannot be trusted to exercise their right in Maryland, because they will just kill each other over donuts at Krispy Kreme. (This is the endemic but disproven "Blood In The Streets" argument.)
People cannot exercise their right because the police might shoot them by accident.
People cannot exercise their right because public safety is harmed when the police waste time chasing "man with a gun" calls that are merely those pesky, lawful citizens exercising their civil rights.
People cannot exercise their right because the police would have to figure out if a person carrying a firearm was truly a lawful person. It is far easier to ban the exercise of a right than to require law enforcement to perform their jobs. This way, every man with a gun is a criminal!
The government may deny a constitutional right to 99% of the population simply by saying "It's in the interest of public safety."
It is not the job of the courts to weigh conflicting evidence.
What Happens Next:
Attorneys for Woollard will likely seek an "en banc" review. If granted, all of the judges at CA4 would rehear the case. It is impossible to know whether or not this petition will be granted.. It seems clear, however, that it will take a Supreme Court case to determine the extent of the right outside the home. The Kachalsky case in New York is being petitioned to the Supreme Court and the results of that case will most likely impact Woollard's appeal to the Supreme Court.
If you were in the group of applicants who applied in the period between the initial decision and Judge Legg's stay, we are working to get information on what will happen to your permit application. We will keep you up to date as we know more.
What We Need To Do Now!
SB 281 remains our top priority. We have no say over the actions of the judicial system, but we undoubtedly have an impact with the General Assembly. We CANNOT let up until the session is over. We need to bring the intensity. Lawmakers are looking for our resolve to weaken; we need to show them it has not weakened, but is stronger than ever.
Join MSI in at the State House in Annapolis tomorrow at 9am for a silent protest and continue to call and visit representatives in Annapolis. Continue to spread the word and get new people involved. We will not compromise our fundamental civil rights.
Maryland Shall Issue, Inc.
1332 Cape Saint Claire Road #342
Annapolis, Maryland 21409
240-446-6782
Mission Statement: Maryland Shall Issue is an all volunteer, non-partisan effort dedicated to the preservation and advancement of all gunowners' rights in Maryland, with a primary goal of CCW reform to allow all law-abiding citizens the right to carry a concealed weapon; and to the education of the community to the awareness that 'shall issue' laws have, in all cases, resulted in decreased rates of violent crime.