New Style Lessens Recoil and Climb.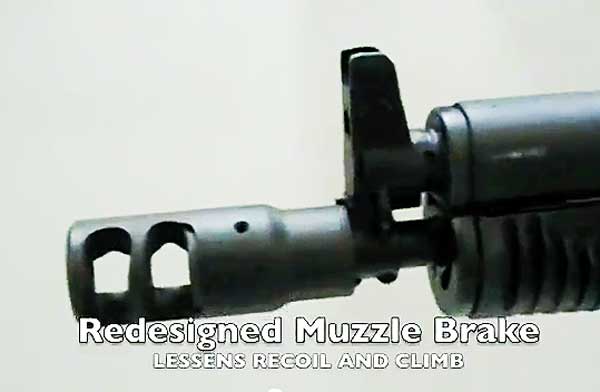 LAS VEGAS –-(Ammoland.com)- In an effort to allow greater ease and comfort in shooting, Arsenal Inc. has redesigned the muzzle break for the SLR-106UR semi-automatic pistol.
The new style will lessen the impact of felt recoil and provide a more enjoyable experience for sportsman and shooting enthusiasts of all sizes. (See Demo)
This redesign puts Arsenal's muzzle break among the most efficient within the firearms industry and stays in line with the company's long history of quality, superior products. The SLR-106 UR, imported from Arsenal of Bulgaria, is a 5.56 NATO caliber, stamped receiver with an 8 1/2 inch chrome-lined, hammer-forged barrel. The pistol is also outfitted with a scope rail, black polymer furniture and comes with one 5-round, one 20-round magazines, sling, oil bottle, and cleaning kit.
ADDITIONAL SLR-106 UR SPECIFICATIONS:
Caliber: 5.56 x 45 mm (.223)
Total Length : 506 mm (20 in.)
Barrel Length: 216 mm (8 1/2 in.)
Rifling: 6 grooves
Twist Rate: 1 in 178 mm (7 in.)
Weight without Magazine: 2.49 kg (5.5 lbs.)
Muzzle Velocity: 910 m/s (2,985 fps)
Rear Sight Range: 500 m (547 yds)
ABOUT ARSENAL INC.
Founded in the year 2000, Arsenal Inc. is the exclusive licensed US manufacturer of the finest, most authentic firearms for government agencies and the shooting public and uses the latest technology and materials in conjunction with the legendary standards of Arsenal of Bulgaria.
Arsenal Inc., may be found online at www.arsenalinc.com and on Facebook at www.facebook.com/arsenalinc. Contact Arsenal Inc. either by phone at (702) 643-2703 or by email at [email protected] Additional contact information can be found below.