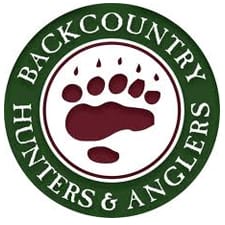 Colorado – -(Ammoland.com)- Two members of the Colorado chapter of Backcountry Hunters & Anglers (BHA), Craig Grother and David Petersen, were recognized for outstanding contributions to protecting backcountry habitat and promoting the conservation efforts of BHA at the organization's national rendezvous in Boise, Idaho, on March 23.
Craig Grother, a Norwood area resident, was the recipient of Backcountry Hunters & Angler's (BHA) Aldo Leopold Award, which recognizes significant contributions toward preserving wildlife habitat. Craig is a retired U.S. Forest Service wildlife biologist with 33 years of public service and a Colorado BHA Habitat Watchman for the Uncompahgre National Forest.
Some of Craig's tireless efforts to protect public lands wildlife habitat from motorized overuse and abuse and other threats include: serving as the sportsmen representative on the Uncompahgre Plateau Collaborative Forest Landscape Restoration Project, submitting written comments on the Dominguez-Escalante National Conservation Area travel management plan, testifying in favor of the San Juans Wilderness bill, attending meetings and submitting written comments on the Colorado Roadless Rule, providing written comments on the Bangs Canyon Motorized Trails project, attending public meetings and providing written comments to both the Forest Service and BLM on proposed new trails in the Norwood area, etc.
Although Colorado BHA has many outstanding members, if we had only a half-dozen or so members like Craig in each state chapter we would exponentially increase BHA's effectiveness in protecting wildlands and wildlife for future generations of hunters, anglers, and other outdoorsmen and women.
David Petersen, a Durango area resident, was the recipient of Backcountry Hunters & Anglers (BHA) Mike Beagle (Chairman's) Award, which recognizes significant contributions to raising the visibility and/or growth of BHA.
David is a hunter-conservationist who has been actively involved in BHA since the first year (2004) it was formed. He founded the Colorado BHA chapter and served on the BHA board of directors, and has worked tirelessly to help promote and build BHA into the rapidly growing national hunter-angler conservation organization that it is today, and David's many books and other writings related to hunting and conservation form the ethical foundation of BHA.
"This group reflects the same values I have come to champion," says Petersen. "First and foremost, it's a pro-muscle-powered wilderness adventure AND CONSERVATION organization." "Backcountry Hunters and Anglers embodies all the things hunters and anglers should become. And all the things we must become in order to continue doing what we love."
Whether he's plugging BHA in his books and frequent articles, op-eds, and essays or recruiting new members at sportsmen's shows or lassoing new state chapter and other BHA leaders, David has been contributing to the growth and success of BHA since its very beginning.
Backcountry Hunters & Anglers (BHA) is built on a foundation laid down by conservationists like Theodore Roosevelt and Aldo Leopold, who understood that America's outdoor heritage depends upon healthy ecosystems. BHA's work is steeped in the values of freedom, challenge, family and adventure, yet at the same time is couched in the sciences of biology and ecology. BHA strives to lead by example, both in the realm of land and water conservation and the realm of ethical hunting and fishing. Our view is not limited to the "here and now," but extends to the needs and rights of future generations of outdoorsmen and women. Visit: www.backcountryhunters.org.