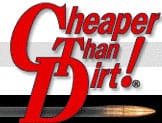 Glenwood, AL –-(Ammoland.com)- Beginning this April, shooting sports giant Cheaper Than Dirt! will begin a new multi-year marketing partnership with the Pursuit Channel, America's largest, audited outdoor television network.
Most notably, the partnership will see Cheaper Than Dirt! as the nameplate of Friday Night Firepower, the network's block of shooting and hunting content.
"We look forward to our partnership with the Pursuit Channel.  The outdoor and the shooting sports enthusiast are finding their entertainment needs met by the programs found on the Pursuit Channel." Cheaper Than Dirt! Chief Operating Officer Roberta Wilson continued, "This long-term agreement will be beneficial to both companies, and also the underserved shooting and hunting communities."
Since 1993, Cheaper Than Dirt! has prided itself as America's Ultimate Shooting Sports Discounter and now offers over 100,000 premium items for purchase through its website, www.CheaperThanDirt.com, and its traditional catalogs. Cheaper Than Dirt! also offers free premium content daily on its blog site, the Shooter's Log, featuring in-depth articles detailing the best products and methods for hunting, shooting, archery and self-defense from industry experts in their respective field.
Starting in April, the Friday Night Firepower block presented by Cheaper Than Dirt! begins at 8:00 p.m. EST with Trigger Time hosted by Troy Guillotte. American Airgunner is next, followed by American Trigger Sports TV, Guns and Gear TV, Doug Koenig's Championship Season and Hunting North America and Beyond with Cross Canyon Arms.  An hour of the acclaimed 3 Gun Nation television series caps the evening beginning in July 2013, making for one of the most expansive destinations of authentic, all-original firearm-centric programming on television.
"MOOSE Media has played the lead role in developing and executing on this aptly named Firepower content block for Pursuit Channel," said network CEO Rusty Faulk. "And ratings-wise, it's proven to be among our most carefully followed periods in primetime, which validates it as one of the best nights of outdoors programming on any network in America to a great company like Cheaper Than Dirt!."
Pursuit Channel, www.pursuitchannel.com, active in 38.5 million U.S. television households, is the only audited outdoors television network viewable to every DIRECTV (604 PRST) and DISH Network (240 PRST) subscriber.  Pursuit is also the only network in category to offer its live signal online. MOOSE Media, www.moosemedia.tv, directs sales and marketing efforts for Pursuit Channel.