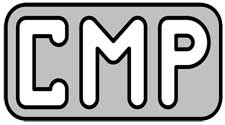 Weldon Spring, MO –-(Ammoland.com)- Custom Metal Products featuring new steel targets at NRA Show 2013 (Booth 5104)
Since the last NRA Show, CMP has introduced several new steel shooting targets products including their latest offering the Texas Star.
Challenging Moving Targets
The Texas Star target features five 8 inch diameter, 3/8″ thick AR500 steel targets mounted on the rotating arms of the wheel. The arms are also made from AR500 steel for those shots that are a little off target.  Shoot one of the targets off the arm and the wheel starts rotating.  Try to keep up with the moving targets!  As you hit each one the wheel may speed up, slow down or even reverse direction.  Every shot is a new challenge.
The targets are easily replaced onto the arms by fitting the stem of the target into a socket on the back of the arm.  Simply slide the target under the retaining spring and you're ready to shoot again.
The arms are mounted with Grade 8 hardened carriage bolts for long life and impact resistance.  The legs of the base simply slide into sockets on the bottom of the post, so setup and transport is easy.
About Custom Metal Products
Custom Metal Products is a full line manufacturer of AR500 hardened steel shooting targets for competition, recreational, law enforcement and military use.  Our products include IDPA/IPSC, Dueling Trees, Gongs, Swingers, Hostage, Sniper, and Cowboy Action Targets.  See all of our product details, including videos on our online store at www.CustomMetalProd.com