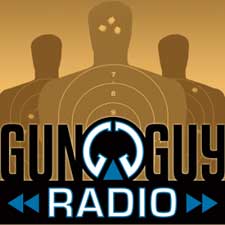 DeKalb, IL –-(Ammoland.com)- On this week's Gun Guy Radio Hank and Jake welcome Paul Markel, firearms instructor, who will be debuting a new show on the Firearms Radio Network.  Paul's new talk show is called "Student of the Gun Radio."
Paul, a former Marine, is also an author, gun writer and produces Student of the Gun TV.  He looks forward to delving deeper into topics in a way that video was not able to deliver.
For the second segment, Tisma from National Shooting Sports Foundation joins Hank and Jake to discuss the First Shots Program.  The NSSF First Shots program organizes events for new shooters to give people a chance to become familiar with firearms safety and use.  Tisma was introduced into shooting sports through a local outdoor program that got her into shotgun shooting.  After falling in love with the shooting sports she now helps introduce others to shooting.
If you go to a First Shots event you can expect to start at the very basic fundamentals of shooting by beginning with safety and then progressing to shooting technique.  Then they will cover safely handling the firearm and possible dry fire exercises.  Finally after all the preparation you will head out to the range and learn the loading/unloading and how to operate the firearm.  You then take your very first shots where the name of the program came from.  Tisma says that after taking those first shots people get really excited and they like the feeling.  One of the major goals of the class is teaching that shooting is fun and that guns are tools that are meant to be understood, mastered and not feared.  Another benefit of the program is the quality information the NSSA provides for both the individual shooters as well as ranges.
For the main topic, Hank and Jake move onto the interview with Britney Starr from Starr & Bodill African Safaris.  Britney and Her Dad partnered with Louis, who lives in South Africa to start the Michigan-based Starr & Bodill African Safaris company.  They arrange everything includingtravel, lodging, fees/taxes, guide services, and anything else you will need. Just bring your gear and you will be taken care of.  Taxidermy services are also arranged either in Africa or you can send it back to your own taxidermist for work.  Britney explains the wide variety of areas that you can hunt in Africa and the many different animals you can harvest.  Britney explained how much fun an African hunt is, as well as how challenging it can be.  Continuing with the Brownells/Gun Guy Radio weekly giveaway, they announce the winner of the Brownells AR-15 Multitasker Tool II.  Make sure you enter the weekly giveaway by subscribing to the GGR email list.   Listen to the entire episode at www.gunguyradio.com/053/ or subscribe to the show on iTunes.
About Gun Guy Radio:
Gun Guy Radio is an on demand talk show that stays positive and leaves out the politics. The podcast features a variety of popular guests that cover a wide range of topics that firearms enthusiasts crave. Each episode delivers entertainment, education and encouragement that expands firearm ownership and knowledge to the current and next generations. Gun Guy Radio is the #1 show on the Firearms Radio Network and releases every Sunday at 12:00 pm central time. Subscribe to the email list and listen via apple iTunes, Stitcher Radio or gunguyradio.com.
Contact:
Jake Challand
Producer/Host
Email: [email protected]
Web:  firearmsradio.tv