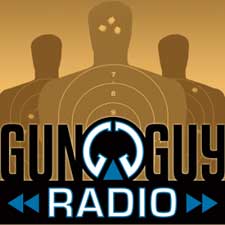 DeKalb, IL –-(Ammoland.com)- This week on Gun Guy Radio snow returns in full fury in Idaho which makes shooting outside a bit difficult for Zack, who has been doing some work on his new (to him) Charter Arms .38 revolver.
In addition to contacting Charter Arms about getting a bobbed hammer and new rubber grips for it, he also bought a Blackhawk pocket holster at, GASP, Wal Mart!
Turns out it works pretty well at breaking up the shape, as long as you have a big enough pocket to fit it in.
Jake has been busy this week while making preparations for the AR15 video blog, keep an eye out for the first installment coming soon!  There will be some high-end parts going into this first build such as a Geissele trigger and handguard along with a White Oak Armament barrel and upper receiver.  Jake announces he will be taking some of the shows to video and launching an iTunes and Roku Channels feed.  Also stay tuned for the upcoming Firearms Radio Network membership program that will help the network.  Be sure to check out the some of the other shows on the network like "God and Guns" which went #1 in the outdoor category of iTunes.
Steve Remy interviews Christian about his up-and-coming gun range, The Frisco Gun Club.  Christian is a businessman and firearms enthusiast who has owned several businesses, including "The Bullet Trap," a shooting range in Plano, Texas.  Christian is making the Frisco Gun Club into a new style of shooting range.  Imagine a high-end golf and country club where you leave the clubs at home and bring your firearms instead.  Frisco will have many amenities for VIP members, as well a public access.  VIP only access includes storage for personal firearms, preparing your private area for you to shoot in, as well as cleaning and maintenance of your firearms after you leave.  Frisco will also have several gunsmiths available on site.  The Frisco club will be open 24/7 for members.  Have you ever woken up in the middle of the night and wanted a midnight round of trap instead of a midnight snack?  With the dramatic increase of women shooters, Frisco Gun Club will feature events just for women, like all-women classes and ladies night on the range.
Christian is also opening a fully stocked retail area that focuses on the self-defense market.  This idea prompted a discussion about the meshing of the more traditional firearms owners and what Michael Bane calls "Gun Culture 2.0" or the guys and girls more into the military style firearms as opposed to traditional weapons.  Christian does not want to get into the "gun debate."  Although he is a passionate supporter of the second amendment, he feels his best work is providing a safe place for people to come shoot and expand the positive image of guns and gun owners.  Even many of the local "anti-gun" organizations have not expressed opposition to his new business.  They seem to feel fine about a safe and secure establishment to go shooting.
If you want to work at the Frisco Gun Club, Christian will be hiring in the spring.  Start preparing your resumes if you want to work at a high-end gun club in the great state of Texas.  Continuing with the Brownells/Gun Guy Radio weekly giveaway, they announce the winner of the Magnum pistol case from Brownell's this week.  You can enter to win as well by subscribing to the GGR e-mail list.  Entering once and you're entered for life, as long as you stay subscribed.  Next week's giveaway is a Brownells/NRA deluxe gunsmith screwdriver set.  Don't mar the finish on your firearms by using tools that don't fit.  All the tips have a lifetime guarantee, so if they break you can get a new one.
About Gun Guy Radio
Gun Guy Radio is an on demand talk show that stays positive and leaves out the politics. The podcast features a variety of popular guests that cover a wide range of topics that firearms enthusiasts crave. Each episode delivers entertainment, education and encouragement that expands firearm ownership and knowledge to the current and next generations. Gun Guy Radio releases every Sunday at 12:00 pm central time. Subscribe to the email list and listen via apple iTunes, Stitcher Radio or gunguyradio.com.
Thank You,
Jake Challand
Producer/HostW: Gun Guy Radio
E: [email protected]
On Demand Talk Radio