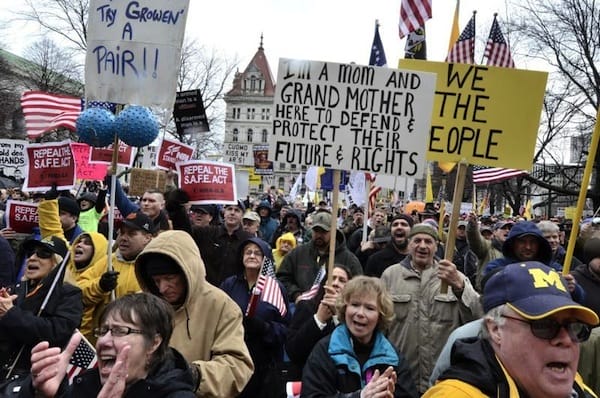 Charlotte, NC –-(Ammoland.com)- On Thursday, February 28, NRA-ILA, along with the New York State Rifle and Pistol Association, held a rally to protest New York's recent attack on the Second Amendment–the passage of the so-called S.A.F.E. Act. The rally drew more than 10,000 law abiding gun owners.  According to the New York State Police, it was one of the largest rallies ever held at the State Capital.
NRA President David Keene was the featured speaker and told attendees that NRA is committed to helping repeal the S.A.F.E. Act, saying NRA would do "whatever is necessary"–including going to court–to defend the Second Amendment.
Rest assured NRA-ILA will continue to protect the Second Amendment and hold lawmakers accountable for stripping away our rights.  Please visit www.NRA-ILA.org for the latest updates on the repeal of S.A.F.E. Act.
About:
Established in 1975, the Institute for Legislative Action (ILA) is the "lobbying" arm of the National Rifle Association of America. ILA is responsible for preserving the right of all law-abiding individuals in the legislative, political, and legal arenas, to purchase, possess and use firearms for legitimate purposes as guaranteed by the Second Amendment to the U.S. Constitution. Visit: www.nra.org