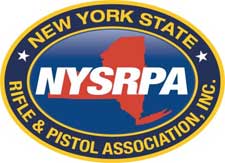 New York –-(Ammoland.com)- Dear Senator,
The New York State Rifle & Pistol Association founded in 1871, the Nation's oldest and the State's largest Second Amendment Civil Rights Group opposes technical amendments to the SAFE Act of 2013.
The people of New York State were stripped of their Constitutional Rights without being allowed to voice their opinions because of an abused over used message of necessity, normally reserved for matters of great urgency.
That combined with the draconian restrictions, unconstitutional provisions, confusing and contradictory language that in some instances mandates equipment that does not exist or makes New York State Citizens felons for owing previously legal equipment makes The SAFE ACT not amendable; therefore the SAFE ACT must be repealed.
As stated very vociferously by the 10,000 gun owners in attendance at the NYSRPA RALLY on February 28, 2013 "NO DEAL; REPEAL"! The people have made it abundantly clear that those Senators who voted in favor of this legislation will be held accountable during the next election cycle.
That is not idle rhetoric the people of New York State, on both sides of the issue, are outraged by the method of passage, harsh provisions and the unrealistic charges. These circumstances have made unusual allies of many diverse groups and individuals who believe in not only the Second Amendment but representative government as evidenced by the thirty plus County Legislatures and sixty plus police groups who have unanimously sent resolutions to the Governor urging him to repeal this law.
Remember: REPEAL; NO DEAL
About:
The New York State Rifle & Pistol Association is the state's largest and oldest firearms advocacy organization. Since 1871, our organization has been dedicated to the preservation of Second Amendment rights, firearm safety, education and training, and the shooting sports. Our membership consists of individuals and clubs throughout the state. We are a not-for-profit 501(c)4 organization and the official NRA-affiliated State Association in New York. Visit: www.nysrpa.org