Company Hosts 2013 Big Game Dinner, now in its 25th year and raises $25,000 for Pioneer Valley USO and $10,000 for Chicopee Comprehensive High School.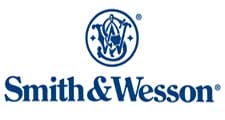 SPRINGFIELD, Mass.--(Ammoland.com)- Smith & Wesson Corp. today announced that the Company has raised $35,000 in funds for two local Massachusetts' organizations through its annual Big Game Dinner.
This year's banquet provided a rare dining experience to over 470 guests, and generated donations of $25,000 to the Pioneer Valley USO and $10,000 to the Chicopee Comprehensive High School scholarship fund.
Treating guests to a mouth-watering array of wild game appetizers and entrees, the 2013 Big Game Dinner was a sell-out event and provided attendees with tasteful selections from 1,800 pounds of cooked meat. From smoked venison kielbasa and barbecued beaver to Maine black bear pot roast, the menu was skillfully crafted by chefs from the Chicopee Comprehensive High School culinary department. Each menu item was prepared in the cafeteria at Smith & Wesson headquarters then served to guests in the Cedars Banquet Facility in Springfield.
In preparation for this year's dinner, Smith & Wesson received support from 66 volunteers, who logged a total of 601volunteer hours throughout three days of preparation work prior to the event. Both the Outlook Farm Country Store in West Hampton, MA, and the Munich Haus of Chicopee, MA, developed specialty items for the dinner. In addition to attendee ticket sales, Smith & Wesson raised funds through the sale of raffle tickets for various hunting and fishing items that were purchased for or donated to the event.
"This year's game dinner was a tremendous success and provided guests with delicious wild game, an assortment of highly-prized raffle items, and most importantly, an opportunity to support our local community," said James Debney, President and CEO for Smith & Wesson. "Hosting a dinner of this scale requires support from many volunteers who spend long hours managing everything from logistics to food preparation. Thanks to their efforts, contributions from local vendors, and the many hunters and sportsmen who provided game donations, we were able to donate needed funds for two important local organizations. On behalf of Smith & Wesson, I would like to thank everyone who participated in this year's game dinner and we look forward to continuing the tradition next year."
Donations made from this year's dinner will help support activities and programs within the USO of Pioneer Valley and the Chicopee Comprehensive High School. Men, women and families of the armed forces utilize the USO for social, recreational, educational and entertainment programs and services. The donation made to the Chicopee Comprehensive High School will be used to support the institute's vocational scholarship.
For any interested parties that would like to help support next year's dinner, please contact Elaine Stellato, Smith & Wesson Employee/Community Relations Manager at (413) 747-3371 or at [email protected]
About Smith & Wesson
Smith & Wesson Holding Corporation (NASDAQ Global Select: SWHC) is a U.S.-based leader in firearm manufacturing and design, delivering a broad portfolio of quality firearms, related products and training to the consumer, law enforcement, and military markets. The company's brands include Smith & Wesson®, M&P® and Thompson/Center Arms(TM). Smith & Wesson facilities are located in Massachusetts and Maine. For more information on Smith & Wesson, call (800) 331-0852 or log on to www.smith-wesson.com.