LUVERNE, AL –-(Ammoland.com)- This we week take a moment of have some fun on the range as we consider single-action revolvers in .45 Colt and .44 Magnum.
Paul dons his black hat and double-rig as we discuss safe and effective ways to load, handle, and shoot some of America's favorite six-guns.
In the rifle department we'll head outdoors for some long range shooting with the Weatherby TRR chambered in .308 Winchester.
Paul examines various loads and accessories to go with the rifle and perhaps we'll see a bit of fireworks on the range.
When it comes to kids and guns, some folks believe children are too fragile to be exposed to firearms.  We believe that kids are merely Adults-in-Training and they should be taught the safe and effective handling of firearms early on.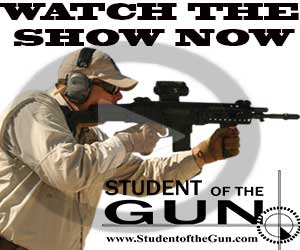 The 4H Shooting Sports program is one of the most professionally run and forward thinking Youth Development organizations in the United States and we give you a firsthand look at the 4H kids and adult volunteers in action.
StudentoftheGun.com is your 24/7 source for all manner of gun related topics.  SOTG offers education and entertainment through on-demand video material, online articles, books, DVD's and live-training events.
Student of the Gun; a beginner once, a student for life.  www.studentofthegun.com
Paul Markel c 2012
Follow Paul Markel at Student of the Gun.com .