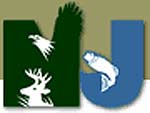 Trenton, NJ –-(Ammoland.com)- NJ Division of Fish and Wildlife: The NJDEP Division of Fish and Wildlife is advising the public that amendments proposed for the 2013-2014 Game Code have been posted on the DEP website.
The Game Code includes regulations governing hunting and trapping in the state; amendments may include adjustments to season dates, bag/creel limits, or the means by which game and furbearers may be taken and possessed.
The Notice of Rule Proposal was published in the April 15, 2013, NJ Register, which commenced a 60-day comment period. Written comments can be submitted via US mail or online, and oral comments may be made at the April 30, 2013 public meeting to be held at the NJ State Museum in Trenton at 6:30 pm.
Please see https://www.nj.gov/dep/rules/notices/20130415a.html for more information and instructions for written comments.
Comments must be submitted by June 13, 2013. The proposed amendments to the Game Code can be found at https://www.nj.gov/dep/rules/proposals/20130415a.pdf on the DEP website.
For information regarding the revision of hunting and fishing regulations in the state visit https://www.njfishandwildlife.com/codechange.htm on the Division of Fish and Wildlife website.
Hat Tip: https://www.njoutdooralliance.org/