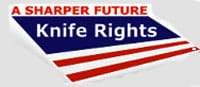 Gilbert, AZ –-(Ammoland.com)- Knife Rights is pleased to welcome R. Lee "The Gunny" Ermey as the featured speaker at the Knife Rights Sharper Future™ Awards Breakfast at BLADE Show on Saturday, June 1st.
"I whole-heartedly endorse the work of Knife Rights and support their mission! I detest the fact that such an organization is even necessary in the United States of America.

You are ordered to be at the Sharper Future Awards Breakfast to support Knife Rights."
Join The Gunny for an exciting and entertaining start to your Saturday at BLADE Show. Knife Rights' Fourth Annual Sharper Future Awards Breakfast will be held June 1st during BLADE Show in Atlanta, Georgia at the adjoining Waverly Renaissance Hotel.
Buy your Sharper Future Awards Breakfast tickets online at www.KnifeRights.org before they are gone!
Seating is Limited!

Tickets will NOT be available at BLADE Show or at the door.

Tickets are only available online through Knife Rights at www.KnifeRights.org
About:
Knife Rights (www.KnifeRights.org) is America's Grassroots Knife Owners Organization, working towards a Sharper Future for all knife owners. Knife Rights is dedicated to providing knife owners an effective voice in public policy. Become a Knife Rights member and make a contribution to support the fight for your knife rights. Visit www.kniferights.org