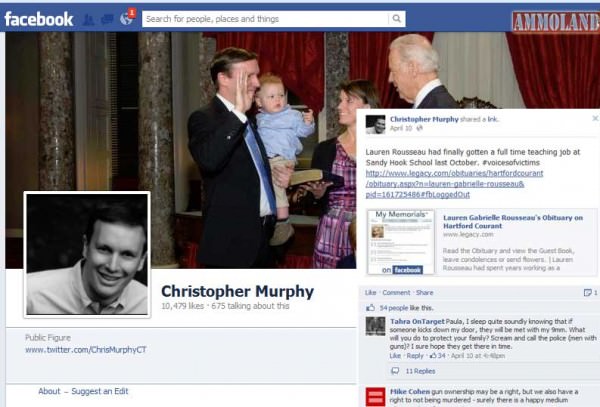 Connecticut – -(Ammoland.com)- Connecticut's U.S. Senator Chris Murphy posted several obituaries of folks who died from gun violence on his Facebook page on Wednesday.
They included Daniel Barden, Victoria Soto, Olivia Engel, Avielle Richman, Rachel D'Avino, Lavanial Williams, and Lauren Rousseau.
Rousseau and Soto were full-time teachers and D'Avino was a behavior therapist at Sandy Hook Elementary School while Avielle, Olivia, and Daniel were Sandy Hook students. They were six of the 26 tragically killed on Dec. 14 2012.
Lavanial was a 17-year-old who was gunned down on Jan. 11 2013 in Martin City, Calif.
The postings happened the same day that the gun control issue was being debated on Capitol Hill.
Murphy said on his page that day that he was "heading back to the Senate floor to tell the stories of those we've lost to gun violence. There are many, so I'll be there a while."
Scott Ennis, founder of Disabled Americans for Firearms Rights, DAFR, said, "This strategic move, yes this is exactly what it is, a political strategic move, seems a little low Senator Murphy. I wonder what the Ethics Commission or Institute for Politics would say about this. I have differed with you on many issues but I have agreed with you on some as well. I am all for remembering the fallen. I go to Arlington Cemetery every year with my family to visit not only the resting places of my Grandfather Joseph Gagnon, my Grandmother Zoila Gagnon, my Great Uncle Rene Gagnon, who was one of the flag raisers at Iwo Jima, but to honor and remember all the American soldiers that gave their lives for our freedom and way of life. Some of the same freedoms you are attempting to severely hinder. So I do understand the paying of respect for those who have died. On other hand, your timing for this is positive proof of a deeper agenda. For that I must sincerely disagree sir. Why not pay respect to the fallen on other days that do not coincide with an agenda. Why not join me in visiting Arlington Cemetery and pay respect to our fallen soldiers. I would be happy to put all political differences aside and I invite you to stand with me in a bipartisan, American show of support to our fallen troops. I eagerly await your response."
Most of the feedback on Murphy's Facebook page gave negative reactions against his posting of the obituaries.
Jacob A Krell, Sr. said on the page that "using a tragedy that involves the murder of children to further your political agenda is disgraceful and pathetic," while Robin Emond said "Murphy you have stooped to a level even lower than I thought you would go – posting obits is disgraceful – you are shameful!"
Read More: http://tiny.cc/308kvw
Disabled Americans for Firearms Rights Mission:
Mission of Disabled Americans for Firearms Rights: Proudly Representing Responsible Disabled Firearms Owners DAFR fights for the inalienable firearms rights of responsible disabled Americans. Disabled Americans have unique needs when exercising their 2nd Amendment rights. The mission of DAFR is intertwined within five basic areas of focus. These areas consist of: The introduction of firearms for self defense to disabled Americans. Shooting sports program and organized competition for disabled Americans and wounded veterans. Oversee firearms legislation and research their impact. Visit:www.dafr.org