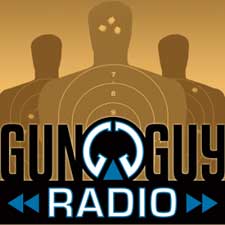 DeKalb, IL –-(Ammoland.com)- This week on Gun Guy Radio Hank and Mike join Jake just in time for winter to finally leave which allowed for some range time.
Hank has been testing a new camera on the range, the Midland XTC-300.  Jake announces that Duluth Trading Company has joined Gun Guy Radio as a new sponsor this week.  Hank and Mike also discuss their experience at the grand re-opening of a local gun range, Gat Guns in East Dundee.
Charles Brown of MKS Supply (Chiappa and Hi-Point) joins Jake on Gun Guy Radio for the main topic.  Charles has worked in the industry for many years, starting by sweeping brass up on the range when he was young.  After working in many facets of the gun industry, Charles was called to take over as owner of MSK supply in the 1980's.  Expanding from the 20X30 foot building he entered into as the new owner, MKS now has many employees, and a 5,000 square foot facility they distribute from.  Charles also adds some new perspective about the stereotype associated with Hi Point.  In addition to Hi Point, MKS also markets and sells the Chiappa line of firearms, which include their revolutionary Rhino revolver, .22 clones and several long guns.
In addition to talking about firearms that MKS Supply Distributes Jake and Charles also talk about the current market demand for firearms and ammo.  Continuing with the Brownells/Gun Guy Radio weekly giveaway, they announce the winner of the Brownells AR vice block.  Make sure you enter the weekly giveaway by subscribing to the GGR email list to win the Multi-Tasker Tube Tool.   Listen to the entire episode at www.gunguyradio.com/059/ or subscribe to the show on iTunes.
About Gun Guy Radio
Gun Guy Radio is an on demand talk show that stays positive and leaves out the politics. The podcast features a variety of popular guests that cover a wide range of topics that firearms enthusiasts crave. Each episode delivers entertainment, education and encouragement that expands firearm ownership and knowledge to the current and next generations. Gun Guy Radio releases every Sunday at 12:00 pm central time. Subscribe to the email list and listen via apple iTunes, Stitcher Radio or gunguyradio.com.
Thank You,
Jake Challand
Producer/HostW: Gun Guy Radio
E: [email protected]
On Demand Talk Radio