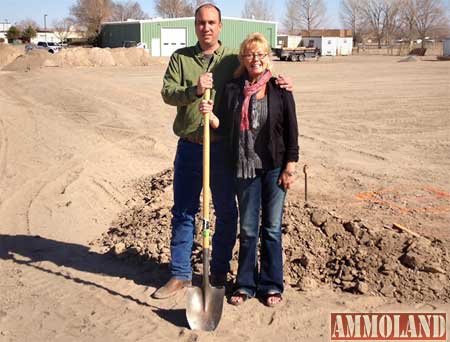 RIVERTON, Wyo. –-(Ammoland.com)- Hans and Kimberly Hummel, the owners of Hi Mountain Seasoning, are excited to announce that they have broken ground in a new lot adjacent to their current headquarters to build a new 12,000 sq.ft. manufacturing and storage facility.
This expansion will increase the Hi Mountain's building space by 50 percent when completed in June of 2013.
This expansion comes as a result of the tremendous increase in popularity of the company's products in recent years.
Hi Mountain Seasonings began operations in 1991 as a one-man operation selling one product, Hi Mountain Original Jerky Cure and Seasonings. Twenty-two years later, the company is still located in Riverton, and it has grown to its current 24,000 square-foot facility with 30 employees and a line-up of nearly 200 products.
"This expansion makes a strong statement about the high value our customers place on our products and services," said Hans Hummel, the company president. "We are all very excited about the new facility and the opportunity that it brings to all of us at Hi Mountain Seasonings and the Riverton community."

"The Riverton community is a very supportive partner of ours and we are pleased to further expand the Hi Mountain Seasonings footprint in the community," said Kimberly Hummel, the executive vice president. "In fact, our building will border Day Drive, which was named after our former neighbor, the late Bill Day. He was a Korean War hero and had the kind of character that you would never forget. We all miss him."
Located in the heart of Wyoming, Hi Mountain Seasonings is the premier manufacturer of kits for homemade jerky and sausage. Hi Mountain Seasonings has successfully captured distinct, traditional Western flavors in its Jerky Cure & Seasonings, Western Style Seasonings, Bacon cures and other products that make up the unique line of gourmet Western seasonings.
You can buy our products here: https://tiny.cc/g7a8uw
In 2011, Hi Mountain Seasonings introduced a line of delicious freeze-dried Camping Meals. For additional information, write: Hi Mountain Seasonings, 1000 College View Drive, Riverton, WY 82501; call toll-free 1-800-829-2285; or visit the company website at www.himtnjerky.com.