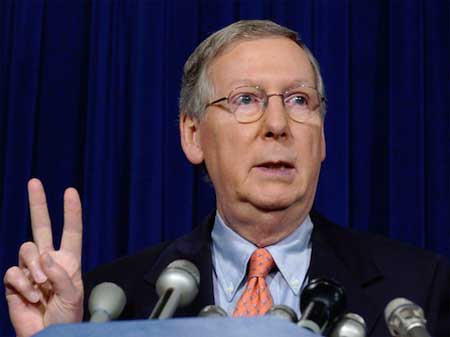 Washington DC – -(Ammoland.com)- Senate Minority Leader Mitch McConnell (R-KY) says he will join GOP Senators to filibuster a bill expanding gun control regulations if Senate Majority Leader Harry Reid (D-NV) brings it up for a vote this week.
This puts McConnell shoulder-to-shoulder with Sens. Rand Paul (R-KY), Ted Cruz (R-TX), Mike Lee (R-UT), Marco Rubio (R-FL), Jim Inhofe (R-OK), and eight other Senators who have said they will block a push for gun control in the Senate.
Currently, Reid's gun control package focuses on instituting universal background checks and new laws against gun trafficking. Reid has made it clear he will allow also amendments establishing an "assault weapons" ban and Sen. Richard Blumentahl (D-CT) has made it clear he will also try to add a "high capacity" magazine ban as an amendment.
McConnell says he now stands with Paul, Cruz, Lee, Rubio, Inhofe, and the other Senators who have vowed to oppose any "motion to proceed to any legislation that will serve as a vehicle for additional gun restrictions."
About:
AWR Hawkins writes for all the BIG sites, for Pajamas Media, for RedCounty.com, for Townhall.com and now AmmoLand Shooting Sports News.
His southern drawl is frequently heard discussing his take on current events on radio shows like America's Morning News, the G. Gordon Liddy Show, the Ken Pittman Show, and the NRA's Cam & Company, among others. He was a Visiting Fellow at the Russell Kirk Center for Cultural Renewal (summer 2010), and he holds a PhD in military history from Texas Tech University.
If you have questions or comments, email him at [email protected] You can find him on facebook at www.facebook.com/awr.hawkins.