Chapter to improve bobwhite quail habitat in the state.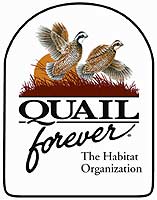 Ashland, Va. –-(Ammoland.com)- Virginia quail enthusiasts have formed the state's newest Quail Forever (QF) chapter.
Known as Central Virginia Quail Forever, the chapter is based in Ashland and will focus its efforts on habitat development in an effort to increase the state's quail population.
The chapter is led by Jim Jones of Ashland. Jones, who has hunted across the country for quail, still prefers running his two English setters and two Brittanys in his native Virginia. Jones noted this spring the chapter has public land improvements planned, working in conjunction with the Department of Game and Inland Fisheries. In addition, the chapter will hold a banquet this October to raise awareness and funds for quail restoration efforts.
Pheasants Forever launched Quail Forever in August of 2005 to address the continuing loss of habitat suitable for quail and the subsequent quail population decline. QF chapters promote local, state, and federal conservation programs which help landowners protect environmentally sensitive acres for quail and other wildlife. Quail Forever also employs Pheasants Forever's unique model of empowering local chapters with 100 percent control of the chapters' locally-raised funds to complete habitat and youth education projects in the chapters' own communities.
"When it comes to creating quail habitat, there are challenges, but this chapter is ready to meet them," said Charlie Payne, QF regional wildlife biologist in Virginia. "People across the state are starting to recognize the benefits of having bobwhite quail, and how it just takes a little elbow grease to get birds back. Here in Virginia, we have over 1,400 acres enrolled in Federal Conservation Practice 33 (CP-33), also called bobwhite buffers, which are greatly helping. Virginia is heavily involved with organizations like Quail Forever and plays an active role in the National Bobwhite Conservation Initiative (NBCI). This chapter is another vital brick, working to build the foundation of a healthier, more robust bobwhite quail population both in Virginia and nationwide."
Central Virginia Quail Forever
The Central Virginia Quail Forever chapter also elected Wade McClintock of Midlothian as treasurer and Steve Capel of Midlothian as secretary.
The chapter's annual banquet will be held this October.
The chapter is actively looking for volunteers to help with Virginia's quail restoration efforts. To be a part of the chapter, please contact Jim Jones at (804) 363-5186 or email Jim.
Virginia Winter Habitat Conditions: Marc Puckett of the Virginia Department of Game and Inland Fisheries, notes that the state had a relatively good hatch based on weather conditions, and a mild 2011/12 winter, leading to a good breeding population last summer.
As winter set in, weather started off mild and stayed mild through mid-January, but since then, the state has had a moderate winter. Most recently a heavy snowfall occurred in the northern part of the state, but the weather turned warm shortly after and conditions quickly improved. Puckett does not believe the winter has been severe enough to impact quail numbers, and "unless we see something unexpected in early spring, I think the winter moisture is actually setting us up for a good breeding season." For more, please see Quail Forever Winter Habitat Conditions Report.
For more information on "The Habitat Organization" or to start a chapter, please contact Charlie Payne at (614) 632-8393 or email Charlie.
Pheasants Forever, including its quail conservation division, Quail Forever, is the nation's largest nonprofit organization dedicated to upland habitat conservation. Pheasants Forever and Quail Forever have more than 135,000 members and 720 local chapters across the United States and Canada. Chapters are empowered to determine how 100 percent of their locally raised conservation funds are spent, the only national conservation organization that operates through this truly grassroots structure.
Quail Forever is dedicated to the conservation of quail, pheasants and other wildlife through habitat improvements, public awareness, education and land management policies and programs. www.quailforever.org