Opinion
Manasquan, NJ –-(Ammoland.com)- "No foreign power, no domestic faction, and no terrorist group has ever stopped the march of freedom in this country. And none ever will.— Mike Bloomberg (@MikeBloomberg) ( http://tiny.cc/e98ovw )"
That is the Tweet that Meglomaniacal Tyrant Mayor of NYC Michael Bloomberg sent out in response to the bombing of the Boston Marathon.
This is the same Bloomberg who has spent his entire political career dictating to people how much salt they should be able to access, how much fat and what kind should be in their food, how large their sugary drinks should be and of course his personal opinion about what is and is not appropriate when it comes to firearms ownership and the natural right of Self Defense, all while surrounded and escorted everywhere he goes, 24/7/365 by a cadre of bodyguards armed with actual, fully automatic, "assault weapons" .
The same " leader" who doesn't lead by example, but by diktat and executive fiat, supported by and promoted by outright lies.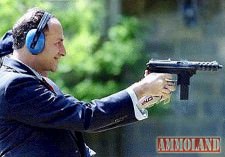 The same Bloomberg who regularly appears on numerous National TV "News" programs and insists that Law Enforcement is fully supportive of new draconian Gun Control Laws, such as when he appeared on the Piers Morgan program after the Aurora Massacre and insisted that Police Officers should walk off the job until those new laws were passed. Something I addressed a few days later in my column. (Just released, a survey of 15,000 rank and file cops that showed overwhelming support for the Second Amendment and Carry Rights.)
The same Bloomberg who was quoted as saying, during an interview just weeks ago on NBC.
"I do think there are certain times we should infringe on your freedom."
Look at that statement again, with my added emphasis on some very important key words.
"I do think there are certain times we should infringe on your freedom."
Thats not the statement of someone who took seriously his sworn Oath to uphold and defend the freedoms of those he claims to represent.
He is not saying " I think there are times our freedoms should be infringed upon"
He is saying he thinks there are times when he, and others of the same mindset, like say Dianne Feinstein, Chuck Schumer and many, many others, should infringe on your freedoms. But their freedoms? They're off limits!
The United States was founded on the principle of individual freedom and heavy restraints on government power.The Constitution and Bill of Rights doesn't grant rights – they're natural, its a written recognition of the existence of those Rights.
Bloomberg supportive of freedom?! I don' think so..Just look at his own words and actions.
More articles, commentary and information by D. Roberts available at That Every Man Be Armed.com