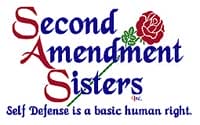 Lakeway, TX –-(Ammoland.com)- The Second Amendment Sisters are made up of Mothers, Sisters, Aunts, and Grandmothers.
We only wish the President and Congress would place their efforts where they belong and that is on criminal activity.
Firearms are not to blame for the acts of murders or the insane. The current debate ignores self-responsibility.
The responsibility for criminal acts lies with the criminal himself. The law-abiding citizens' responsibility to protect oneself, property, or family has been left out of the debate. If we do not hold individual criminals responsible, and if we instead limit our own liberties in reaction to their crimes, then we are effectively being forced to assume responsibility for their actions.
Second Amendment Sisters, Inc. is a grass-roots organization dedicated to preserving the basic human right of self-defense.
About:
Second Amendment Sisters. Founded by 5 women from across the country, SAS has now grown to thousands of members across our Great Nation. We have taken on many functions. We teach and advocate for women to have the right to life – that is, we work to protect our basic human right to self-defense. Our members span the ages from the very young to the mature. We are a grassroots national organization with representation in all 50 states. Second Amendment Sisters, also known as SAS, was formed in response to the Million Mom March.
Visit: www.2asisters.org