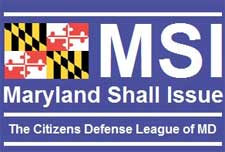 Maryland ––(Ammoland.com)- Thursday April 4th 2013, the Senate gave final approval to the changes made to SB281 in the House, clearing the path for the Governor's bill to become law.
Maryland Shall Issue would like to extend its most sincere thanks and appreciation to the thousands of you who took time away from work and your families to fight the most egregious assault on your 2nd Amendment rights in Maryland's history.
At the end of the day, many of your elected representatives chose to ignore your voice and determined that they knew better than you. The bill – which will soon become law – has seen improvements thanks to your work, but obviously remains flawed, complicated and sadly will not reduce crime.
It remains a rotten piece of legislation. MSI continues to work on determining what impact the bill will have on law-abiding firearms owners, and will as always update you as is appropriate.
While it is true that this particular battle has been lost, a fight like this has never before been seen in Annapolis.They know that they have awoken a sleeping giant and they know that we will not forget their misdeeds. The level of organization and cooperation between individuals and representatives from various pro-2A groups in the last three months has been unparalleled. We will only become stronger as we continue to work together.
The fight now continues, but on a different level: the entire House of Delegates and State Senate will be up for re-election in 2014. We will hold those who attack our rights accountable at the ballot box. You have been and will always remain the backbone of this fight and we must stand united in our cause.
Thank you again for your unyielding defense of the 2nd Amendment.
Maryland Shall Issue, Inc.
1332 Cape Saint Claire Road #342
Annapolis, Maryland 21409
240-446-6782
Mission Statement: Maryland Shall Issue is an all volunteer, non-partisan effort dedicated to the preservation and advancement of all gunowners' rights in Maryland, with a primary goal of CCW reform to allow all law-abiding citizens the right to carry a concealed weapon; and to the education of the community to the awareness that 'shall issue' laws have, in all cases, resulted in decreased rates of violent crime.