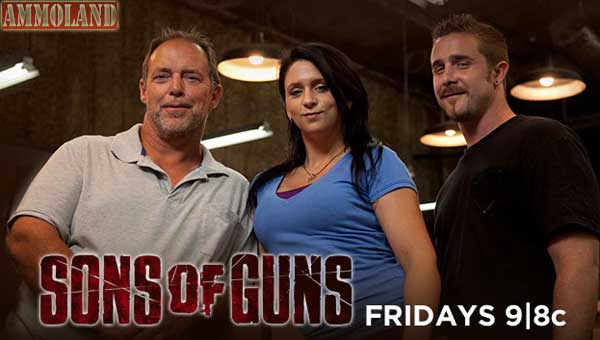 Silver Spring, MD –-(Ammoland.com)- Will Hayden, his daughter Stephanie, Joe, Kris, Charlie, Flem, and the rest of Red Jacket Firearms crew were back with a new drama-filled season of SONS OF GUNS, this past Friday April 19 at 9 PM ET/PT on Discovery Channel.
Will is an American success story, having built his small business into a regional powerhouse. This season, we'll see what Red Jacket does best – as the boys from the bayou handle some major firepower – including a rare hand held WWII PIAT, a Russian Cannon and a M36 tank. The builds are bigger and more intricate than ever before.
But there's trouble on the horizon. Vince, a former employee, is back in Baton Rouge, sniffing around the shop. Vince left Red Jacket last season and his reappearance as a possible competitor could alter Red Jacket forever.
Will Vince succeed in tearing Red Jacket down?
Will family conflict rip apart the shop? Will competition force Red Jacket to shut their doors? Follow Will and the entire Red Jacket crew as they work against stacked odds to find the parts, solve the problems and build some of the most interesting weapons on the planet.
About Discovery Channel
Discovery Channel is dedicated to creating the highest quality non-fiction content that informs and entertains its consumers about the world in all its wonder, diversity and amazement. The network, which is distributed to 100.8 million U.S. homes, can be seen in 210 countries and territories, offering a signature mix of compelling, high-end production values and vivid cinematography across genres including, science and technology, exploration, adventure, history and in-depth, behind-the-scenes glimpses at the people, places and organizations that shape and share our world. For more information, please visit www.discovery.com.
About Discovery Communications
Discovery Communications (Nasdaq: DISCA, DISCB, DISCK) is the world's #1 nonfiction media company reaching more than 1.8 billion cumulative subscribers in 209 countries and territories. Discovery is dedicated to satisfying curiosity through 149 worldwide television networks, led by Discovery Channel, TLC, Animal Planet, Science and Investigation Discovery, as well as U.S. joint venture networks OWN: Oprah Winfrey Network, The Hub and 3net, the first 24-hour 3D network. Discovery also is a leading provider of educational products and services to schools and owns and operates a diversified portfolio of digital media services, including Revision3. For more information, please visit www.discoverycommunications.com.