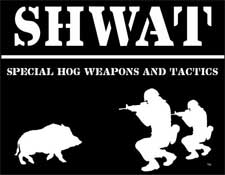 Abilene, Texas –-(Ammoland.com)-   SHWAT is about more than just cool guns. We bring you the knowledge you need to be successful in your hunt.
In this case we are bringing you information that could potentially save your life or a friend's.
According to data from the National Shooting Sports Foundation (NSSF), there were approximately 8,122 hunting related injuries in 2010. Over 6,600 of these were associated with tree stands.
If you think it couldn't happen to you, just ask Vice President Dick Cheney's hunting buddy or former pro cyclist Greg Lemond. They both were accidentally shot while hunting.
Knowing what to do when things go sideways is always a good idea. It's especially a good idea when you are engaged in an activity that takes you to places where emergency medical services may take a long time to arrive.
In this article on tactical first aid, we will address one of the latest tools to employ when the animals aren't the ones bleeding.
Hemostatics are a new and innovative way to stop bleeding. Used primarily in combat and some EMS/fire departments , they can be a valuable additional tool in your tool kit. Hemostatics hit the military market in the early 2000s. They did not become commercially available until five or six years ago.
There are several types of hemostatics on the market today. Every brand has pros and cons. It will be up to you to do research, and decide which one is right for you. This article is meant to serve as a starting point that research.
Many of us are familiar with QuikClot from Z-Medica. Quikclot is currently being fielded by our military and others around the world….
Read the Rest Here:  https://tiny.cc/c14qvw
About Special Hog Weapons & Tactics:
SHWAT is the new center of gravity for tactical hog hunting. Special Hog Weapons & Tactics is a dynamic, game changing lifestyle brand, fusing together the tactical, hunting and feral hog control communities. Quality content and connections are rapidly coming together through partnering with credible industry professionals. Vendors are licensing the SHWAT brand. Conversations are growing on Facebook, Facebook.com/SHWATteam. That quality extends from our community and contributors, including our sponsors and writers, bloggers and videographers. Visit: www.shwat.com