DO NOT TAKE Your Small Knives Onboard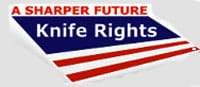 Gilbert, AZ –-(Ammoland.com)- Caving in to political pressure from flight attendants unions and others, the TSA backed away from their ruling that was to take effect today, allowing small knives on passenger aircraft.
DO NOT try to take your small knives onboard!
The new rule for small non-locking blade pocket knives with blades shorter than 2.36 inches in length and less than 1/2 inch in width had been set to go into effect April 25th 2013. Bats, golf clubs and other sports equipment that were also set to be permitted under the new rule, will also stay banned, for now.
"In order to accommodate further input from the Aviation Security Advisory Committee, which includes representatives from the aviation community, passenger advocates, law enforcement experts, and other stakeholders, TSA will temporarily delay implementation of changes to the Prohibited Items List, originally scheduled to go into effect April 25," said a TSA spokesperson."This timing will enable TSA to incorporate the ASAC's feedback about the changes to the Prohibited Items List and continue workforce training."
A coalition of unions representing flight attendants nationwide said in a statement, "All knives should be banned from planes permanently."
The hyperbole being spouted by these groups emotionally driven and is not supported with facts. Their propaganda efforts have included numerous instances of displaying larger locking blade folding knives that would not have been allowed on board under the new rules.
I guess showing off the small keychain-size knives that would have been allowed might not support their cause.
These same spurious arguments were totted out last time the TSA liberalized its rules that allowed under 4-inch pointed scissors, knitting needles and other tools onboard. None of the dire events they warned about then have occurred in the 7 years that followed those rule changes. Click here to read a Dear Colleague letter from Arizona Representative Matt Salmon that covers these facts.
We encourage you to write your Representative and Senators in support of the TSA ruling.
Find your Representative here: http://www.house.gov/representatives/find/

Find your Senators here: http://www.senate.gov/general/contact_information/senators_cfm.cfm
About:
Knife Rights (www.KnifeRights.org) is America's Grassroots Knife Owners Organization, working towards a Sharper Future for all knife owners. Knife Rights is dedicated to providing knife owners an effective voice in public policy. Become a Knife Rights member and make a contribution to support the fight for your knife rights. Visit www.kniferights.org