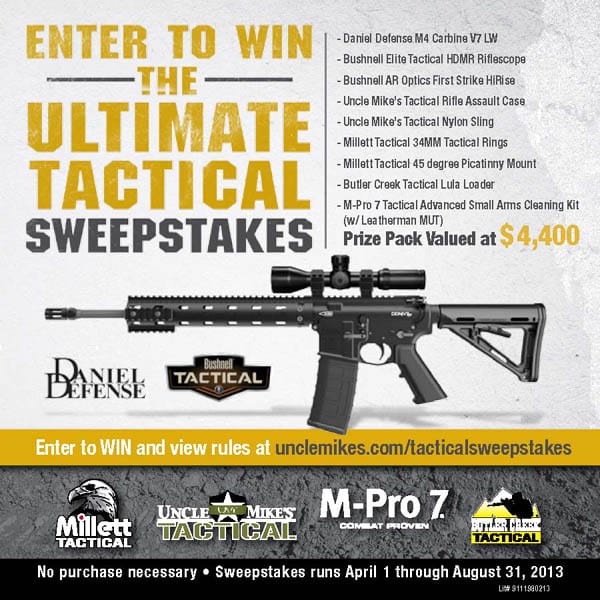 Overland Park, Kan. (AmmoLand.com) — Uncle Mike's, a leading provider of shooting accessories for more than 60 years, has launched the Ultimate Tactical Sweepstakes, a prize package that includes a Daniel Defense rifle, Bushnell Tactical optics, and tactical accessories from Butler Creek Tactical, Millett, and M-Pro 7.
Uncle Mike's, in collaboration with some of the most well-respected brands in the shooting industry, will present one lucky consumer with this incredible prize package. Featuring a Daniel Defense M4 Carbine, two premium optics from Bushnell, and a host of tactical accessories, the package is valued at more than $4,400.
"At Uncle Mike's, we're actively involved in the shooting sports industry and see the growing demand from our customers for innovative tactical gear and accessories," says Jason Slinkard, Uncle Mike's product manager. "We know our customers don't just purchase a firearm – they kit them with optics and a variety of accessories. For the Ultimate Tactical Sweepstakes, we collaborated with several manufacturing partners to put together a one-of-a-kind package for customers purchasing our tactical products," added Slinkard.
Headlining the sweepstakes is the Daniel Defense v7 Lightweight M4 Carbine rifle. Chambered in .223/5.56mm, it is equipped with a single pinned low profile gas block that is drilled, taper rimmed, and pressed into place to securely attach the low profile gas block to the barrel assembly. One of the latest additions to the Daniel Defense M4 rifle family, the v7 features the new Modular Float Rail (MFR), offering shooters the ultimate in adaptability while the 3" Picatinny rail sections provide a variety of rail customization options.
Bushnell Tactical adds the Elite Tactical 3.5-21x 50mm ERS Riflescope with a G2 reticle. This scope is part of the Bushnell extended range riflescope (ERS) family designed to give tactical marksmen a powerful optic that works equally well in short or extended range shooting applications. Built with a 34mm one-piece aircraft grade aluminum alloy tube, this scope offers professional-grade toughness in a package just over 13 inches long.
Also included in the package from Bushnell is the new AR Optics First Strike HiRise Red Dot. Designed for flat top rifles and tactical shotguns, this compact sight is built with a riser block for easy installation and optimum mounting height. Featuring a 5 MOA red dot with a self-regulating brightness control that adjusts to ambient light conditions, the First Strike is fully waterproof and shockproof.
The Ultimate Tactical Sweepstakes also includes an array of gear from some of the leading tactical accessory providers. Designed to improve military field weapon maintenance, the combat-ready M-Pro 7 Small Arms Cleaning Kit (SACK) includes everything needed to properly maintain a weapon in the field, including the popular Leatherman MUT multi-tool. In addition to a host of cleaning supplies and accessories from M-Pro 7, the SACK includes a lockable plastic case and Molle field pouch.
Uncle Mike's offers protection and easy way to transport that new rifle with its Tactical Rifle Assault Case. Ruggedly built and large enough to accommodate nearly any rifle or shotgun, the case features exterior pouches to store extra gear and an internal pocket designed to fit a handgun. Also from Uncle Mike's, the One-Point Nylon Sling allows easy movement of the firearm, and the side release buckle allows for quick release.
To outfit the rifle with the Bushnell Elite Tactical riflescope and AR Optics red dot, Millett has provided 34mm Tactical Rings and a 45 Degree Picatinny Mount. The detachable 34mm rings are a lightweight, strong solution for repeatable performance, while the Picatinny mount makes it easy to mount an offset red dot.
When it comes time to hit the range, the Butler Creek LULA Loader provides the fastest, most comfortable loading experience possible. The lever engages the spring in the magazine, so rounds slide in and out effortlessly, giving shooters and opportunity to enjoy time behind the trigger.
No purchase is necessary to enter or win the Ultimate Tactical Sweepstakes, which ends August 31, 2013. To enter the sweepstakes, or learn more about the rules and regulations, visit http://unclemikes.com/tacticalsweepstakes. For more information about Uncle Mike's and its complete line of hunting and shooting accessories, visit www.unclemikes.com or call 1-800-423-3537.