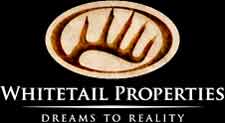 Pike County, Ill. –-(Ammoland.com)- Whitetail Properties, the hunting and farm land specialists, is pleased to have been named as one of America's Best Brokerages (Midwest) for 2012 by The Land Report, The Magazine of the American Land Owner.
Each year the editors of The Land Report select brokerages that have passed a valuation criteria based on volume of land sold as well revenues generated. This is the first year that Whitetail Properties has been spotlighted on the survey.
Breaking and setting many internal goals for 2012, Whitetail Properties experienced a meteoric rise in sales. With more than $240 million in sales, the team received a boost from one 2800-acre tract in Missouri that closed for $19 million.
Paul Sawyer, Whitetail Properties vice president of marketing, says, "We continue to expand our own land specialists and are consistently adding more states to our portfolio. We are predicting a 25% increase in gross sales for 2013. It is humbling to make this prestigious list and it is our goal to remain on it."
One of the keys to Whitetail Properties' marketing efforts is the integration of its comprehensive website and its award-winning Whitetail Properties TV, which is broadcast to more than 50 million homes. For users looking to buy land, needing helpful habitat information, wanting to view the current Whitetail Properties TV segment or just simply wanting to window shop, the website is designed for easy navigation and usability. Quickly access information and services offered from the Land Specialists at www.whitetailproperties.com.
To download The Land Report Spring 2013 with the survey, click here.
About
Headquartered in Pike County, Ill., Whitetail Properties is an agricultural and recreational real estate company that offers its services throughout the Midwest, Kentucky, Tennessee and Texas.
Whitetail Properties staffs a select team of specialists who are the most skilled, knowledgeable, honest and hard-working real estate agents in the country. In order to reach the greatest number of potential land buyers and sellers, the company utilizes a national marketing campaign highlighted by an industry-leading website and the highly rated award-winning show, Whitetail Properties TV, which airs on the Sportsman Channel in more than 50,000,000 households.
Contact
Randy Bowden (217-285-9000) [email protected]