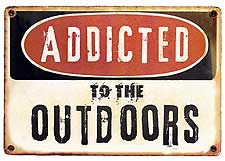 TAMPA, FLORIDA – Addicted to the Outdoors with Jon and Gina Brunson has unveiled a dynamic new program focused on shining a spotlight on family participation in the outdoors, and on couples who make the outdoors more than a hobby – but a lifestyle.
Jon and Gina Brunson, hosts of the award winning Addicted to the Outdoors (ATTO) (http://addictedtotheoutdoors.com/) television show as seen on Outdoor Channel, are expanding their Addicted brand.
They're searching for a select few Addicted to the Outdoors Couples.
Who Will Be Television's Next Superstar Outdoor Hunting Couple? Could It Be You?
Are you married with kids, in love, or dating someone who's just as addicted to the outdoors as you? Is one of your dreams to host an outdoor TV show with your partner?
Here's your once-in-a-lifetime chance to become one of the next outdoor hunting couples to hit national television on Outdoor Channel.
Audition With Your Mobile Device or Computer
Participate in the Addicted Couples Casting Call (https://addictedtotheoutdoors.com/atto-couples) right from your computer or mobile device. Submit a video showing your on-camera personality and passion for hunting along with our Addicted Couples application. The ATTO crew will review all submissions. Ten couples will be selected to interview with Jon and Gina via Skype.
One of Your Hunts Filmed for TV
That's right, it's lights, camera, action, and you'll be the stars! Several couples' hunts will be filmed with intent to be a full-length episode of Addicted to the Outdoors for the 2014 television season.
If you have what it takes to be an Addicted Couple, ATTO will send its award-winning professional production film crew to you. The crew will film one of the hunts you already have planned for the 2013 summer/fall hunting season.
From this launch deck, Jon and Gina believe they can build a national ATTO movement and potentially develop our next television series, Addicted to the Outdoors Couples.
Think you have what it takes to host an outdoor TV show?
Think you're the next Addicted Couple?
Submit your video application today!
Addicted to the Outdoors – Couples Search
YouTube Promo Video About for Addicted to the Outdoors Couples:
https://www.youtube.com/watch?v=AXUmKxNHo00
Direct Link to Apply for Addicted to the Outdoors Couples:
https://addictedtotheoutdoors.com/atto-couples

Facebook Tab to Apply for Addicted to the Outdoors Couples:
https://www.facebook.com/AddictedToTheOutdoors/app_137541772984354
Social Media Links for Addicted to the Outdoors:
https://www.facebook.com/AddictedToTheOutdoors
https://twitter.com/Outdoor_TV
http://pinterest.com/attotv/
https://www.youtube.com/attotvshow
https://plus.google.com/u/0/118220209552524469610/posts