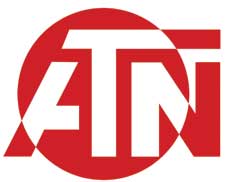 Houston, Texas –-(Ammoland.com)- American Technologies Network (ATN) receives 2013 Gold Award in the Category of Night Vision/Thermal at the NRA Show in Houston, Texas Predator Xtreme's Readers Choice Gold Award for ATN
American Technologies Network Corp., makers of military, law enforcement, security and outdoor night vision and thermal applications, has been awarded the Gold Award by Predator Xtreme for their night vision and thermal products.
The award was presented to ATN at the 2013 National Rifle Association's Meetings and Exhibition in Houston, Texas on May 3, 2013. The Reader's Choice award for the first place or gold position is determined by Predator Xtreme's over 80,000 subscribers.
Mike Kizzire, Publisher for Predator Xtreme's Grand View Media Group presented the award to ATN representative, Gil Shvartz on the opening day of the NRA show. Early estimates for attendance at this year's NRA show top 80,000.Gil Shvartz of ATN and Mike Kizzire of Grand View Media
"ATN is very appreciative of the Gold Award from Predator Xtreme magazine," James Munn, President of ATN commented. "It means a great deal to us that this award comes from the readership and our customers. It exemplifies that ATN is moving in the right direction with our business strategy. We will continue to strive to be the industry leader in affordable, innovative, high-quality night vision and thermal optics."
For more information on American Technologies Network Corp, visit www.atncorp.com. Visit Facebook to stay up to date on new products, images and promotions.