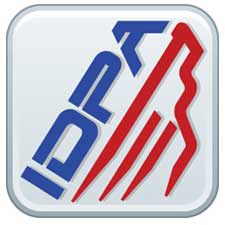 HEMPSTEAD, Texas –-(Ammoland.com)- One of the top IDPA shooters in the world, Brandon Wright of Team ITI, captured the Stock Service Pistol division title this Memorial Day weekend at the Lone Star State's premier IDPA competition, the Comp-Tac Republic of Texas Championship.
Wright won five of 10 stages within the division, with two of those stage wins topping the entire field of over 200 competitors, and edged out his nearest competitor by 3.49 seconds with his final time of 152.01 seconds. Wright finished the match with 24 points down.
"Brandon is one of IDPA's strongest competitors and with national and state titles to his credit, ranked among the very best in the sport. His performance this weekend at the Comp-Tac Republic of Texas Championship shows once again why he's such a formidable competitor on the range," said Joyce Wilson, executive director of IDPA.
Second place in SSP went to Chris Keller who took first Master with at time of 155.50 seconds and 28 points down. Keller also had five stage wins with two recorded as overall wins. Jeff Holthus finished third as second Master with 189.23 (18), followed by Karl Bergman who claimed third Master with 193.99 (66). Finishing fifth overall was Bill Go of ACADEMI whose final 198.45 seconds with 20 points down earned him both fourth Master as well as the High Senior title.
Elsewhere in the division, Arnold Brown finished first Expert and High Law Enforcement with 203.86 (34). Adam Sills won first Sharpshooter with 229.27 (36) while Clark Coneby captured first Marksman and High Junior with 220.20 (38). Braden Bergman, a Novice class competitor, finished with 392.33 (109). Charla Scott, an Expert class shooter, won the High Lady title with 287.24 (55), and Pedro Chapa, a Marksman, took home High Military with 328.73 (71).
Complete, searchable match results can be found online at IDPA.com.
Sanctioned by the International Defensive Pistol Association (IDPA) the Republic of Texas Championship was held at the ImpactZone Range in Hempstead and drew top shooters from throughout Texas and across the United States.
The match received strong industry support with sponsorship from ACADEMI, Armadillo Concealment, Brian Enos, Competitive Concealment, CrossBreed Holsters, Cypress Firearms, Dillon Precision, Don's Guide Rods, GLC Shooting Academy, GlockTriggers.com, Grip Reductions, Hi-Viz Shooting Systems, Starline Brass, Target Acquired, and title sponsor Comp-Tac Victory Gear.
For more information on IDPA, the 2013 Comp-Tac Republic of Texas IDPA Championship or to get started in this fun and exciting defensive pistol shooting sport, visit www.IDPA.com. You can also connect with IDPA online by following @OfficialIDPA on Twitter, like ShootIDPA on Facebook, watch IDPA TV, or check for regular news and updates on the DOWN ZERO Blog.