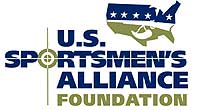 Columbus, OH –-(Ammoland.com)- After a successful nationwide event last June, Cabela's World's Foremost Outfitter and the U.S. Sportsmen's Alliance Foundation's (USSAF) Trailblazer Adventure Program have once again teamed up for a coast-to-coast event to be held Saturday, June 8th, 2013.
The Cabela's Outdoor Adventure Day featuring the Trailblazer Adventure Program will be held at all 41 Cabela's retail stores and will offer an array of activities for youth and their families to enjoy.
Activities will include target shooting, archery, live fishing, casting, trapping demonstrations, and different conservation methods from various outdoor groups.
"The Trailblazer Adventure Program is honored to be invited back to all Cabela's retail stores to introduce youth to great outdoor activities," said Frank Price, USSAF Education Director. "This is a great way to expose kids to our outdoor heritage and we hope that June 8th will encourage all participants to continue outdoor sports after the day is done."
Admission is free to all and will be held from approximately 10 a.m. to 2 p.m. Times vary by store.
For more information on the Trailblazer Adventure Program visit www.trailblazeradventure.org. For the latest photos and information on Trailblazer Adventure Days held across the country, 'Like' Trailblazer on Facebook.
About:The U.S. Sportsmen's Alliance is a national association of sportsmen and sportsmen's organizations that protects the rights of hunters, anglers and trappers in the courts, legislatures, at the ballot, in Congress and through public education programs. Visit www.ussportsmen.org.