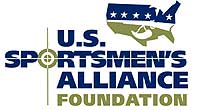 Columbus, OH –-(Ammoland.com)- The U.S. Sportsmen's Alliance's Director of Federal Affairs, Bill Horn, will testify on the reasons why Congress must act on critical legislation which was recently introduced in the House of Representatives.
The House Sub-committee on National Parks, Forests and Public Lands will hold a hearing on HR 1825, the Recreational Fishing and Hunting Heritage and Opportunities Act, on Thursday May 9th at 10 am.   The bill establishes that fishing, hunting and recreational shooting have a key place on National Forests and Bureau of Land Management (BLM) lands.  HR 1825 also provides protections for these activities against attacks by the animal rights lobby, which has fought to stop hunting on all public lands.
The key provision of the Recreational Fishing and Hunting Heritage and Opportunities Act is the "Open Until Closed" language, which mandates that National Forest and BLM lands are open to hunting, fishing and recreational shooting unless specific steps are taken to close those lands for necessary and demonstrable reasons.
Horn, a former Assistant Secretary of Interior under President Reagan, will explain how this game changing provision closes the door to frivolous lawsuits by anti-hunting groups intended to stop hunting.  These lawsuits have cost the federal government millions of dollars in legal fees, diverting those dollars from investment in fish and wildlife habitat.  The "Open Until Closed" language will help put a stop to this abuse.
The U.S. Sportsmen's Alliance was a champion of similar legislation in 1997.  Like HR 1825, the Refuge Improvement Act of 1997, clearly defined the value of hunting and fishing on National Wildlife Refuges.  As a result millions of acres of land were opened to hunting, and similar lawsuits to stop hunting on wildlife refuges ground to a halt.
The Alliance is part of a coalition including the National Rifle Association, National Wild Turkey Federation, Safari Club International, and the Congressional Sportsmen's Foundation working on this important legislation.
"We have long sought the same protections for BLM and Forest Lands as we have on Wildlife Refuges," explained Horn.  "We greatly appreciate Representative Benishek introducing this important legislation, and ask members of the Sub-committee on National Parks, Forests and Public Lands to send this bill to the full Natural Resources Committee and on to the House floor as soon as possible."
Horn's testimony will be available at www.ussportsmen.org on Thursday, May 9th immediately following the hearing.  The hearing can be viewed live HERE at 10 am on Thursday.
About:The U.S. Sportsmen's Alliance is a national association of sportsmen and sportsmen's organizations that protects the rights of hunters, anglers and trappers in the courts, legislatures, at the ballot, in Congress and through public education programs. Visit www.ussportsmen.org.