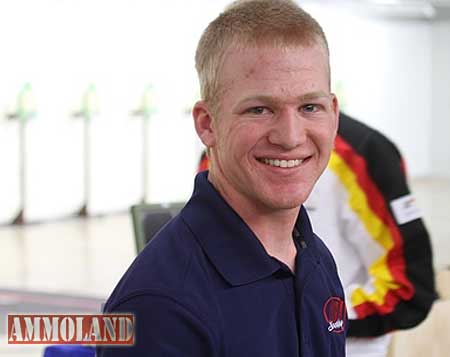 COLORADO SPRINGS, Colo. –-(Ammoland.com)- Representing the value of hard work and dedication, Will Brown (Twin Falls, Idaho) went from the quiet understudy of USA Shooting's Pistol Team to perhaps its brightest pupil Tuesday in Ft. Benning, Ga., by winning his first career World Cup medal.
A clutch final in which Brown shook off a tremendous bout of nerves would place the Idaho native atop the podium as Team USA claimed its second medal of the International Shooting Sport Federation (ISSF) World Cup USA.
Brown becomes just the 11th American pistol shooter all-time (male or female) to win a World Cup gold and becomes just the third USA Shooting Team member to ever win gold in the Air Pistol event since ISSF World Cups began in 1986 (124 World Cups) joining teammate Daryl Szarenski (Seale, Ala.) and Erich Buljung who each recorded two.
Brown's golden moment makes it two medals for the USA Shooting Team following Dempster Christenson's (Sioux Falls, S.D.) silver medal in the Men's 10m Air Rifle event on Monday. Both Olympic Training Center resident athletes have proven that their hard work is paying off as both have proven to be range regulars putting in a tremendous amount of dedication to perfecting their craft.
"Winning was the plan!" the 21-year-old Brown said. "It's definitely rewarding to know that what I've been doing and all the time spent has been working. This is confirmation that what you're doing is right."
Though he admitted a bout of nerves was present shooting in his first-ever ISSF final round, Brown stayed the course and fended off his much more experienced competitors.
Brown made it to the final with a qualification score of 580/600 points. Then, during the final, he shot 202.1 points, climbing up the scoreboard to the top. On the final of 20 shots, Brown had built up a lead of over two points over his closest follower, two-time Olympian Oleh Omelchuk of Ukraine, who was eight year's Browns senior. The bronze medal went to 30-year-old Denis Koulakov of Russia. The 2012 Olympic bronze medalist Vladimir Isakov of Russia, finished fifth.
"Will had a great performance in the final," said Sergey Luzov, USA Shooting's National Pistol Coach. "That's what he's capable of certainly and it proves that our younger athletes are ready for this moment. His discipline in preparation for these matches is his greatest strength. He's a low-maintenance kid who does everything right."
Brian Beaman (Selby, S.D.), a 2008 Olympian and fourth-place finisher, missed making today's final by two points and finished 13th with a 578. James Henderson (Midland, Ga.) compiled a 574 and finished 22nd. John Zurek (Tucson, Ariz.) recorded a 566.
The ISSF Rifle and Pistol World Cup in Fort Benning continues Wednesday with Women's 10m Air Rifle. On the line representing Team USA will be veteran Amy Sowash (Richmond, Ky.) along with another World Cup rookie in Elizabeth Gratz (Sigel, Ill.).
Sowash has spent the past nine months as an assistant coach for her alma mater, the University of Kentucky. Under long-time head coach Harry Mullins, Sowash helped guide the team to a runner-up finish at the recent NCAA Rifle Championships while mentoring USA Shooting's young up-and-coming junior talent on the Wildcat squad including Connor Davis (Shelbyville, Ky.), Elijah Ellis (Kingsport, Tenn.) and Emily Holsopple (Wilcox, Pa.). The teacher steps back onto the range for the first time since finishing just shy of an Olympic Team berth last summer.
The 17-year-old Gratz represents an exciting future in women's rifle for Team USA as she starts earning her stripes competing in bigger matches. Also competing will be U.S. Army Marksmanship Unit (USAMU) athlete Erin Lorenzen (Fort Wayne, Ind.) as well as Lisette Grunwell-Lacey (Old Lyme, Conn.).
For a complete World Cup results, click here:
http://www.issf-sports.org/calendar/championship_schedule_by_discipline.ashx?cshipid=1443

2013 World Cup USA Schedule
Thursday, May 9 – Men's 25m Rapid Fire Pistol (Stage 1) & Men's 50m Three-Position Rifle

Friday, May 10 – Women's 50m Three-Position Rifle & Men's 25m Rapid Fire Pistol (Stage 2 + Finals)

Saturday, May 11 – Women's 25m Pistol & Men's Prone Rifle (Eliminations)

Sunday, May 12 – Men's Prone Rifle (Qualifying & Finals) & Men's 50m Free Pistol
About USA Shooting:
USA Shooting, a 501c3 non-profit corporation, was chartered by the United States Olympic Committee as the National Governing Body for the sport of shooting in April 1995. USA Shooting's mission is to prepare American athletes to win Olympic medals, promote the shooting sports throughout the U.S. and govern the conduct of international shooting in the country. Check us out on the web at www.usashooting.org and on Twitter at twitter.com/USAShooting.