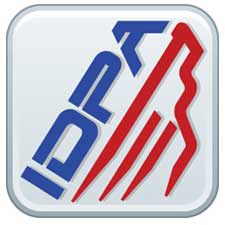 HEMPSTEAD, Texas –-(Ammoland.com)-  For the past 10 years Gordon Carrell has won the Stock Service Pistol title at the Lone Star State's IDPA championship.
This year however, the Team Comp-Tac shooter decided to take a different path, winning instead the Enhanced Service Pistol division title at the Comp-Tac Republic of Texas Championship.
Carrell captured not only the ESP title but also took top honors as the High Industry shooter and the title of Most Accurate, shooting just 11 points down with an overall top time of 151.80 seconds. Carrell outpaced his nearest competitor, defending champion Brian Stricker, by 15.74 seconds, winning seven of the 10 stages within the division with five of those stage wins topping the entire field of over 200 competitors.
"Gordon shot a brilliant match and dominated his division with a combination of both speed and accuracy, the kind of which wins you the title every time," said Joyce Wilson, executive director of IDPA.
Second place overall in the division went to Brian Stricker who won one stage and took first Master with 167.54 (42). Team RangeLog's Morgan Allen finished third for second Master with 178.92 (40), followed by Robert Powell, third Master, with 184.14 (62) and David Rowe, who finished first Expert, with 211.36 (63) and one stage win.
Elsewhere in the division, Dillon Rys claimed first Sharpshooter by winning one stage and finishing with 224.10 (78). Ray Duroy, a Sharpshooter within ESP, won the High Distinguished Senior title with a time of 231.11 (38). Scott Zwahr won first Marksman with 257.13 (63) while Michelle Azar took first Novice with 488.50 (187).
Complete, searchable match results can be found online at IDPA.com.
Sanctioned by the International Defensive Pistol Association (IDPA) the Republic of Texas Championship was held this Memorial Day weekend at the ImpactZone Range in Hempstead and drew over 200 top shooters from throughout Texas and across the United States.
The match received strong industry support with sponsorship from ACADEMI, Armadillo Concealment, Brian Enos, Competitive Concealment, CrossBreed Holsters, Cypress Firearms, Dillon Precision, Don's Guide Rods, GLC Shooting Academy, GlockTriggers.com, Grip Reductions, Hi-Viz Shooting Systems, Starline Brass, Target Acquired, and title sponsor Comp-Tac Victory Gear.
For more information on IDPA, the 2013 Comp-Tac Republic of Texas IDPA Championship or to get started in this fun and exciting defensive pistol shooting sport, visit www.IDPA.com. You can also connect with IDPA online by following @OfficialIDPA on Twitter, like ShootIDPA on Facebook, watch IDPA TV, or check for regular news and updates on the DOWN ZERO Blog.