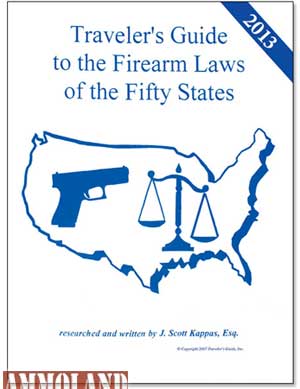 USA –-(Ammoland.com)- If you own or carry a gun, don't dare travel out of your state without "The Traveler's Guide to the Firearm Laws of the Fifty States."
Read the book before you travel. Pack it with your gun gear. Keep a copy in your vehicle. Use it as a reference so you'll know what to expect when you approach a state line.
Travelers who carry firearms on a regular basis know full well the variant nature of this situation. A routine traffic stop for a speeding violation could turn into a nightmare journey through the criminal justice system if the traveler isn't aware of the proper way to carry or transport his firearms in a vehicle.
Attorney J. Scott Kappas uses case law and statutory authority to render plain English advice as to how a traveler should carry firearms while visiting the many states of our great nation. Kappas' book is not simply a restatement of the statutes. It is an easily readable narrative designed to unlock the complexities of state firearm laws.
Five hundred Fifty thousand readers agree, the Traveler's Guide to the Firearm Laws of the Fifty States is indispensable for staying on the road and out of jail!
Written by Kentucky lawyer and firearm law expert J. Scott Kappas, this essential reference explains all the basics for armed travel, including concealed carry laws, where and how to store guns in your vehicle, weapon types allowed, where open carry is legal, and more.
Buy your copy today and don't leave your state with out it: http://tiny.cc/sg4wuw