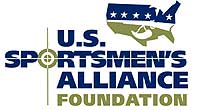 Columbus, OH –-(Ammoland.com)- The U.S. Sportsmen's Alliance (USSA) and the U.S. Sportsmen's Alliance Foundation (USSAF) are pleased to announce the appointment of Nick Pinizzotto as president and CEO.
He will begin in early July 2013.
Pinizzotto, most recently of Bismarck, ND, comes to the USSA/USSAF with nearly two decades of work in the conservation field—in both the private and non-profit sectors. Most recently, he was the CEO of Delta Waterfowl Foundation. Pinizzotto will succeed Walter "Bud" Pidgeon Jr. who announced that he would be stepping down as CEO after more than 16 years of distinguished service.
"I'm excited for the opportunity to lead an organization that has fought coast to coast for sportsmen's rights for more than 35 years," said Pinizzotto. "Although our community still faces great challenges, I am confident that I can help continue and build upon USSA's tremendous record of success."
Before Delta Waterfowl Foundation, Pinizzotto was an executive with the Western Pennsylvania Conservancy, overseeing award-winning conservation programs and crafting plans to creatively increase fundraising for the organization.
An avid outdoorsman, and originally from Indiana, PA, Pinizzotto and his wife Angela are relocating to the central Ohio area.
Pidgeon oversaw numerous successful campaigns to protect and defend hunting, fishing, trapping, and shooting and to ensure the future of outdoor sports during his tenure with the organizations.
"It was a privilege to have served as President and CEO of the USSA and USSAF," he said. "Together we accomplished so much. I wish all the best to Nick as he assumes the CEO role."
About the USSA and USSAF:
The U.S. Sportsmen's Alliance and U.S. Sportsmen's Alliance Foundation are national associations of sportsmen and sportsmen's organizations dedicated to protecting and advancing the rights of American hunters, anglers and trappers. The organizations do this in the courts, state legislatures, at the ballot box, in the halls of Congress, and through public education programs. USSA and USSAF are the nation's only organizations exclusively devoted to combating the attacks made on America's sporting traditions by anti-hunting and animal rights extremists.
For more information about the organizations call (614) 888-4868 or visit www.ussportsmen.org.