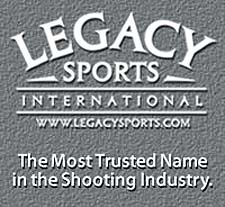 Reno, NV – -(Ammoland.com)-  Andy has been with Legacy for 9 years, most recently as Vice-President of Sales & Marketing.
Andy will manage the company's day-to-day operations and will be responsible for planning and implementing its growth strategy.
He has spent his entire career in the shooting sports industry, as a guide in Alaska and at Turner's Outdoorsman, a 15 store retail chain in Southern California.
Andy commented: "It's a great honor to have the opportunity to lead an organization with so many quality brands and so much history in the industry". He takes over the reins as president from Gene Lumsden who helped form the company in 2000. Gene added "Given Andy's experience and energy, the entire Legacy team looks forward to continued growth and success in the years ahead".
Gene Lumsden will continue on as the company's CEO and will work primarily on strategic initiatives, potential acquisitions, vendor/customer and banking relationships.
Meanwhile, Brett Kennon is being promoted to National Sales Manager. Brett will be responsible for 50 sales reps and will provide training and support for dealers across the country. Most recently Brett has been the company's regional manager for the east coast.
Legacy Sports International is an importer of firearms and shooting accessories. Bringing in high quality, reliable and affordable products for shooting and hunting enthusiasts is the mission of Legacy Sports' business. With well-respected brands including Howa and Puma rifles, Escort shotguns, ISSC pistols and rifles and Citadel handguns and rifles, Legacy Sports is committed to offer today's shooting sports enthusiast performance on the range and in the field.
Legacy's track record proves – without a doubt – that they have consistently provided accurate rifles and shotguns as well as award-winning optics for sportsmen on a budget. This is why Legacy Sports is known as
"The Most Trusted Name in the Shooting Industry".
For more information on Legacy Sports International, visit their website at www.legacysports.com.