Wins American Rifleman "Tactical Gun of the Year ".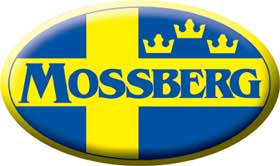 North Haven, CT –-(Ammoland.com)- On May 3, 2013, O.F. Mossberg & Sons, Inc, America's oldest family-owned firearms manufacturer, will be presented with a 2013 Golden Bullseye Award for its ground-breaking, TLS modular 500 FLEX Shotgun System.
Recognized by the staff of the American Rifleman for its innovative, cross-platform versatility, the FLEX Shotgun was named "Tactical Gun of the Year." The award presentation will be made during the upcoming 2013 NRA Annual Meeting & Exhibits in Houston, Texas.
Presented annually by the NRA Publications division, the Golden Bullseye Awards acknowledge the finest products available in the shooting sports and are a symbol of excellence, innovation and quality. Consideration for a Golden Bullseye Award requires the product to be field-tested by a staff member or regular contributor to the magazine; prove to be reliable in the field; and meet or exceed expectations for design, function and value.
The FLEX Shotgun System is a series of modular 500 and 590® pump-action shotguns and accessories that feature the patented TLS (Tool-less Locking System), three connectors that allow stocks, forends and recoil pads to be interchanged for a variety of shooting applications. With this quick-change system, your FLEX shotgun can easily be converted from a rugged tactical platform to a hunting scattergun to a dedicated home defense gun in seconds!
For more information on the 2013 NRA Annual Meeting & Exhibits, please visit www.nraam.org. To learn more about the FLEX Shotgun System, visit your local Mossberg dealer today or see the complete 500/590 FLEX Series of shotguns and accessories on our web site at http://www.mossberg.com/products/shotguns/pump-action/mossberg-flex.
About O.F. Mossberg & Sons, Inc.
Founded in 1919, O.F. Mossberg & Sons, Inc. is the oldest family-owned firearms manufacturer in America, and is the largest pump-action shotgun manufacturer in the world. Leading the way with over 100 design and utility patents to its credit, and standing as the first ISO 9001 Certified long-gun manufacturer, Mossberg is considered to be one of the most innovative firearms manufacturers in U.S. History. For more information on commercial, special purpose, law enforcement and military shotguns, rifles and accessories, please visit their website at www.mossberg.com.