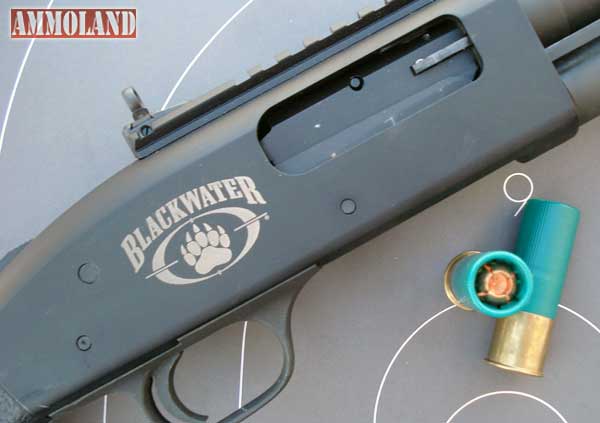 Arizona –-(Ammoland.com)-  Growing up in Delaware hunters were restricted by state law on the use of rifles and handguns for hunting, mainly because Delaware is so flat and densely populated.
Bows, muzzle loaders and shotguns are the choice for many hunters because of their limited range. But what I loved most wasn't just hunting, it was those lazy summer days cooking hamburgers and hot dogs, drinking lemonade and then retiring to the back 40 and shooting clay pigeons.
They were simple times, but those memories have stuck with me all these many years and I often wish I could return to those days even if for a little while.
The shotgun that was used in my family was the Mossberg 500. For over 50 years Mossberg has been producing shotguns like the 500 series, (Mosseberg recently produced their 10 Millionth 500 Shotgun!), that has been putting dinner on America's tables and providing hours of recreational shooting for the whole family.
Since 1919 Mossberg has strived to make each firearm better than the generation before utilizing ever changing technologies in firearms manufacturing. This is why today Mossberg carries an ISO 9001 Certification for manufacturing assuring you the highest standards for your money.
Following this line of thinking, it's no wonder the Mossberg 590 was the shotgun the United States Military picked to equip our soldiers.
Since testing began the 590 series was the only shotgun that met and/or exceeded Mil-S-3443 specifications winning them a coveted government contract. Debates do rage between which shotguns are better and looking at facts not speculation is a good rule of thumb. Being in the firearms business for 92 years and winning a government contract is proof you make a battle worthy shotgun. Even after all those years of kicking out hulls my father's Mossberg 500 still performs like the day he bought it and I know It will be passed on to my sons one day.
When I received my Mossberg 590A1 Blackwater Edition, I removed it from the box and I was impressed with what I saw. The Mossberg 590A1 is not your daddy's shotgun; it's a breed apart from the hunting models, yet built to the same exacting standards. This shotgun is built for battle and would be highly effective in other areas such as executive protection, private security, police and home defense.
The shotgun has always carried a deep respect and instilled fear upon anyone who has heard the racking of a shell into the chamber. Even the sight of the shotgun makes some criminals drop whatever their holding and place their hands in the air.
The Mossberg 590A1 commands respect and an adversary would be very wise to give it that respect because it can deliver its payload of pellets fast with up to nine rounds and four in reserve. I have been asked many times if I could only have three firearms what they would be; I'll tell you one would be a trustworthy pump action shotgun like the 590A1.
Since the 590A1 is designed from the ground up as a military grade shotgun it has many features that also appeal to tactical shooters. The polymer stock of the 590A1 Blackwater Edition is a speed feed design, holding up to four extra rounds of your favorite fodder, I prefer slugs or a less lethal combination and since you're dealing with a pump shotgun it will cycle anything you feed it. A recoil pad comes standard and the stock grip has a pebble grain finish for extra control in wet conditions. My sample had a slightly untrimmed recoil pad that overhung the stock by about 1/16 of an inch and while purely cosmetic, did not affect the performance at all. Some shooters also reported they had problems with the shells falling out of the stock during heavy recoil although I never experienced this during my testing. The springs in the stock are strong and unless they were not inserted correctly and didn't catch the lip of the shell they won't fall out.
The 20 inch barrel is a heavy walled cylinder bore, designed to handle up to three inch magnum loads of whatever you feed it. It has two rings attached to the barrel, both stabilize the magazine tube but the rear ring holds the bayonet lug.
Yea, you heard right, bayonet lug! Rifles have them, so why not shotguns.
You can only carry so much ammunition and if you do run out at least you can keep your aggressor at arm's length with some steel, after all that's why the military still teaches bayonet fighting techniques and it is better than nothing!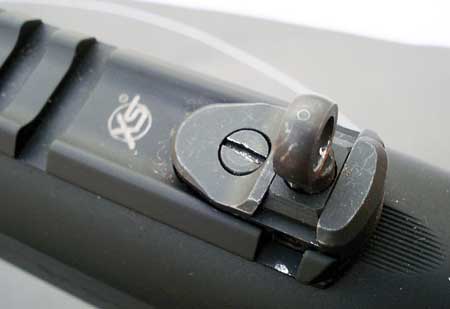 The front sight is an elevated design with what Mossberg calls an AR-style white stripe front sight and is easy to see in daylight conditions. The magazine tube holds up to eight rounds of 2.75 or seven three inch with one in the chamber with a possible load of 9 rounds, 13 if you count the speed feed stock, that's not a bad load out. The magazine cap serves to hold the muzzle ring of the bayonet and has threads for a sling stud which is easily removed. A word of caution, the sling stud if not thread locked (Lock-Tite) or used with a sling can vibrate out and get lost. The magazine cap can be unscrewed to reveal the magazine spring which can be removed for cleaning and you reserve the option of adding a magazine extension.
The forend or forearm is a tri-rail design having a 5 inch Picatinny rail molded into the bottom and two smaller 1.75 inch rails on the left and right side. This makes shooting the 590A1 with a plain foregrip or one with a laser/light combination possible and gives you better control while pumping out the empty hulls. The left and right rails allow you to mount a light and laser separately if you choose to use the forearm as is. I did find it painful to have your thumb behind the left rail while shooting 3 inch magnums; during recoil it tends to jam your thumb pretty good. Just make sure you use a fore grip or keep your thumb under or on the rail or remove it altogether. You may remove both of these rails if not in use and it becomes somewhat flush. The forend is connected to the bolt by twin rails for strength and dependability. Since Mossberg shotguns are so popular, if you don't like the hardware they provided, the aftermarket parts are easy to find and plentiful for your own custom setup.
The receiver, trigger guard, safety and action lock lever are all metal for durability. On top of the receiver a Picatinny rail with a XS ghost ring rear sight installed, which is adjustable for windage and elevation. One of the features I like about Mossberg shotguns is the position of the safety; it's located on the rear of the receiver and is easily accessible with your thumb for either left or right shooters. The receiver also wears the Blackwater bear paw logo on the right ejection port side and the words 590A1 engraved on the left side.  The Mossberg 590A1 series comes equipped with an anti-jam shell elevator and duel extractors for positive hull extraction, so you can be sure when you pull the trigger the next sound you hear will be a good one. All these features give you a shotgun with an overall length of 40.75" and an unloaded weight of about 8 lbs. Add some 2.75" No# 4 Buck and four slugs in the stock and you get a combined weight of 9.25lbs which is about the same weight as a fully loaded 20" Colt AR-15A2 heavy barrel.
The weight will come in handy during recoil and should you need to use the butt stock against an aggressor or to help you with a stubborn door, this shotgun is solid enough to handle it.
At the range I fired everything I could get my hands on from Remington premier target loads in No# 8 shot to Winchester PDX1 12 gauge and everything in between. There is no shortage of names and shot sizes the 590A1 will not digest, so whatever you want or need there is fodder for it close by. The market is flooded with high end specialty loads designed to optimize your shotguns full potential, but my first stop was my local Wal-Mart. I purchased over the counter 12 gauge ammunition like Winchesters 3" 00 Buck (15 Pellet) loads and some Remington Slugger 2.75" 1 oz Rifled Slugs. Ammunition for all firearms has made amazing leaps forward in the last few years and the shotgun is no different. I wanted to test as much as I could and I was not disappointed with the results. I shot most all loads at seven yards out to 25 yards and all the shot landed multiple hits, but what I was most impressed with was the slugs. I fired three rounds of Remington Sluggers at 100 yards and achieved a three shot group of four inches.
I was told by a few observers that that was impossible with an un-rifled barrel; I'm guessing that myth was laid to rest fairly quickly.
The major benefit to a pump action shotgun is the feeling that whatever you need to shoot in it will function. You just can't be sure about semi automatic shotguns functioning properly with all rounds and would you bet your life on it? But whether shooting flares, bean bag or door breaching rounds, you have but to rack the slide and you are back in action. It does take some effort to learn the mechanics of a pump gun, but like everything else it just takes time and practice. I own a semi automatic shotgun and I wouldn't get rid of it for anything, but I believe there are tools best fit for the job. There are more than a few police officers who bet their lives on the pump shoguns they carry every day. If you ask them they will tell you it's because they know it will work when they need it to and the Mossberg 590A1 was designed to deliver time and time again.
If pump shotguns are really not your style and you must have a tactical semi-automatic shotgun that follows along the same lines as the 590A1, give the Mossberg 930 SPX Blackwater Series a try.
I could not find any faults with the 590A1 other than the few I described; it is a well built shotgun that will serve you for many years. If I could make a few changes in production I would definitely add a speed feed pistol grip stock for greater control. As far as aftermarket additions, I would add a side saddle and a lighted forend most likely Surefire's 323LM forend or possibly the Crimson Trace MVF-515 Modular Vertical Foregrip with the green laser. Either way you are just making a great shotgun even more versatile and you can customize your 590 to whatever job or mission you need it to perform. I know this 590A1 Blackwater Edition is not going back to Mossberg; I'm having way too much fun with it.
Whatever you buy from Mossberg whether it is a 590A1 Blackwater Edition, Varmint MVP, MMR Hunter or Tactical or the humble 500 series, you can bet it will be a trusted friend and you will pass it on.
Sources:
Norman Gray ©2012 POMA Member
About Norman Gray:
Norman Gray has been involved in the shooting sports for well over 30 years. He has served in both active duty and reserve component of the United States Army as an Infantryman and was honorably discharged at the end of his service. Moving to Arizona, he began assisting his long time friend and mentor Bob Shell, an accomplished writer and author in his own right. Norman is freelance contributor with Handguns Magazine, Canadian Firearms Journal and Manzano Valley Outdoors. He is also a member of (POMA) The Professional Outdoor Media Association, the (NSSF) National Shooting Sports Foundation and a Life Member of the (NRA) National Rifle Association. Visit: https://www.unleaded-ink.blogspot.com/

---
Want a second opinion on the Mossberg 590A1 Blackwater Edition Shotgun?
Check out spartan765's video review below.