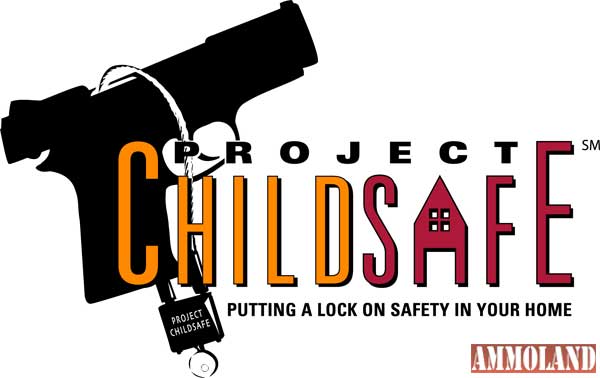 Orlando, FL – -(Ammoland.com)- The National Association of Sporting Goods Wholesalers (NASGW) recently donated $30,000 to the National Shooting Sports Foundation (NSSF) in support of its Project ChildSafe firearms safety education program.
"It is NASGW's privilege to join other industry partners in helping NSSF support this very important initiative," said Kent Williams, NASGW chairman of the board. "We encourage all of our members to become involved as well. NSSF has taken a critical role in providing this valuable information and tools to educate youth in the proper safety and use of firearms."
Project ChildSafe reminds gun owners to safely handle and securely store their firearms in order to make certain that they are not casually accessible to any unauthorized person, including children, at-risk individuals and persons legally prohibited from possessing a firearm.
"Promoting firearms safety has been an NSSF priority since its inception more than 50 years ago.  This very generous donation by NASGW will help NSSF continue to remind gun owners to take steps to prevent firearms accidents and misuse," said NSSF Senior Vice President and Chief Marketing Officer Chris Dolnack.
Project ChildSafe provides free firearm safety kits that include a gun lock and safety booklet to law enforcement departments that in turn provide the kits to firearms owners in communities. The program has distributed more than 36 million firearm safety kits. Fatal firearms accidents are at an all-time low thanks to firearms safety programs like Project ChildSafe.
For more information about NSSF, please visit http://www.projectchildsafe.org/.
About NSSF
The National Shooting Sports Foundation is the trade association for the firearms industry. Its mission is to promote, protect and preserve hunting and the shooting sports. Formed in 1961, NSSF has a membership of more than 8,000 manufacturers, distributors, and firearms retailers, shooting ranges, sportsmen's organizations and publishers. For more information, visit www.nssf.org
About NASGW
The National Association of Sporting Goods Wholesalers is a 60 year old 501 ©(6) trade association representing wholesale distributors, manufacturers, manufacturers representatives and media in the hunting, fishing and shooting sports industry. The Association will celebrate its 40th Annual Meeting and Expo on October 28-November 1, 2013 at the Gaylord Texan Hotel in Grapevine, (Dallas) Texas. For further information contact NASGW at [email protected] or visit their website at www.nasgw.org.