Status update FYI.
By Tom King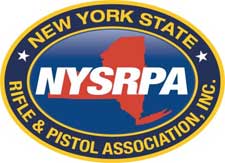 New York –-(Ammoland.com)- New York State Rifle & Pistol Association has filed both a Complaint and an Amended Complaint in the USDC for the Western District of New York.
Our Amended Complaint claims that the SAFE Act is unconstitutional in that it violates the Second Amendment, the Equal Protection Clause, and is unconstitutionally vague.
Subsequent to the filing of our Amended Complaint, we filed a Motion for Preliminary Injunction asking the Court to Order all defendants to cease the enforcement and prosecution of the SAFE Act.
The Court has not yet decided our request.
After a hearing to establish a briefing schedule, Judge William Skretny issued a Scheduling Order. Under the Order, the following deadlines were set: the time for all defendants to file an Answer to the Amended Complaint was stayed until June 7 2013.
All defendants have until June 7 2013 to respond to our motion for preliminary injunction or cross-move for dispositive relief;
The plaintiffs have until July 8 2013 to oppose any cross-motion by the defense and/or reply to any opposition to the motion for PI; and the defendants' time to reply to any opposition filed by the plaintiffs was not decided, but will be addressed by the Court at a later date.
The Court set August 23rd 2013 as the next date for the parties to return to court, characterizing this date as a "status conference/hearing date, with emphasis for now on status conference."
To date we have spent $164,000 on the suit and have received an additional $80,000 from the NRA Civil Rights Defense Fund.
Tom King
About:
The New York State Rifle & Pistol Association is the state's largest and oldest firearms advocacy organization. Since 1871, our organization has been dedicated to the preservation of Second Amendment rights, firearm safety, education and training, and the shooting sports. Our membership consists of individuals and clubs throughout the state. We are a not-for-profit 501(c)4 organization and the official NRA-affiliated State Association in New York. Visit: www.nysrpa.org