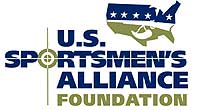 Columbus, OH –-(Ammoland.com)- With the summer months approaching and hunting seasons coming to an end, most of us are already thinking about the hunting opener next Fall.
Don't let those long, hot summer days get in the way of prepping for a successful hunting season. Here are a few helpful tips to keep you busy while you 'patiently' pass those summer months away:
1. Is your hunting license up to date? Some of you may not have purchased a license this year yet. Visit your state's Division of Wildlife webpage and purchase your license to save you time in the fall.
Check your gear! Did you know that your tree stand harness needs replaced every 3-5 years? Don't let a gear mishap endanger your safety (or lead to a missed kill shot). That can easily be avoided if you check and replace anything necessary this summer.
2. Don't forget to clean your firearms thoroughly. This helps avoid misfires and also will minimize equipment mishaps that could be dangerous to the shooter and those around them. If you find this chore tedious, turn on some of your favorite music, throw some wood in the fire pit and have a relaxing evening of gun cleaning so you're ready to go at first light next fall.

3. Keeping your strength and stamina up during summer months will help you cover more ground right from the start of hunting season and will also help fill those tags. Maintaining a physical activity regimen will improve your fitness level and your health, making that climb into your tree stand a breeze, help you stalk game, and climb that hill with ease that looks steeper every year.

4. Start scouting for game and your next hunting spots now. It is never too early to start! If you want the jump on animals for the fall, head out to the woods when you have some free time this summer and start looking for tracks and other sign. This will undoubtedly save you from spending many hours in the woods with no game in sight.

5. Lastly, perfecting your aim with your weapon of choice is a fundamental for preseason preparation. We recommend visiting a range or shoot at home with your gun or bow at least once a week or more. It's the smart and ethical thing to do.
About:The U.S. Sportsmen's Alliance is a national association of sportsmen and sportsmen's organizations that protects the rights of hunters, anglers and trappers in the courts, legislatures, at the ballot, in Congress and through public education programs. Visit www.ussportsmen.org.