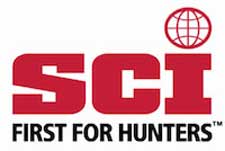 Washington, D.C. –-(Ammoland.com)- Melissa Simpson, Safari Club International's Director of Government Affairs, will be testifying before the House of Representatives' Public Lands and Environmental Regulation Subcommittee on Thursday May 9, 2013.
Simpson's testimony will support H.R. 1825, the Recreational Fishing and Hunting Heritage and Opportunities Act — introduced by Congressman Dan Benishek of Michigan and nine original co-sponsors.
"As a hunter and longtime advocate for multiple-use of public lands, it is encouraging to see that Congress is willing to address the vital issue of hunting access to public land," said Simpson. "SCI would like to thank Congressman Dan Benishek and his staff for championing legislation that affirms the rightful place of hunting on public lands, rather than sitting back and watching as hunting opportunities are eliminated by costly and unnecessary litigation."
A recent poll conducted by the National Shooting Sports Foundation and Responsive Management shows that over 79% of Americans support hunting. Additionally, hunters generated an enormous economic impact with nearly $40 billion in spending in 2011, the vast majority of which benefited community economies in rural America. That is more than the total national revenues of Comcast in 2011, according to a recent Congressional Sportsmen's Foundation report.
The May 9th hearing on H.R. 1825 is being held on the same day as Safari Club International's annual lobbying day, during which more than 200 Congressional meetings will be attended by SCI's membership. SCI is the leader in protecting the freedom to hunt, and this annual exercise of "boots on the ground" grassroots involvement from SCI members multiplies the effectiveness of SCI's Washington, D.C. office which is led by a team of attorneys, policy experts, and dedicated hunters.
Becoming an SCI Member:
Joining Safari Club International is the best way to be an advocate for continuing our hunting heritage and supporting worldwide sustainable use conservation, wildlife education and humanitarian services. JOIN NOW: www.safariclub.org/Join.
Safari Club International – First For Hunters is the leader in protecting the freedom to hunt and in promoting wildlife conservation worldwide. SCI's approximately 200 Chapters represent all 50 of the United States as well as 106 other countries. SCI's proactive leadership in a host of cooperative wildlife conservation, outdoor education and humanitarian programs, with the SCI Foundation and other conservation groups, research institutions and government agencies, empowers sportsmen to be contributing community members and participants in sound wildlife management and conservation. Visit the home page www.safariclub.org or call (520) 620-1220 for more information.