This event is 2A FlashMob Approved, anyone attending will automatically qualify for their own FREE 2A Mob Patch. New Jersey –-(Ammoland.com)- Senate Majority Leader Loretta Wineberg has orchestrated an all-out attack upon the legitimate rights of all New Jersey individuals to keep and bear arms.
Although she will give minimal lip service to the Constitution and the Second Amendment, her actions speak much louder than her words.
By parading the parents of the murdered children into OUR Senate Law and Public Safety Committee Hearing, Weinberg has broken her oath to serve the interests of the citizens of NEW JERSEY!
It is time to place a consequence upon behavior that runs counter to the Constitution and places the lives of honest, hard-working New Jerseyans in jeopardy. Because of her PERSONAL hatred of guns, her bigotry toward those who choose to exercise their legitimate RKBA, and her desire to CONTROL the lives of every New Jersey resident, a young woman who wishes to protect her body from rape, a parent who wants to protect his or her family from harm, minorities, the elderly, the disabled and the able alike are all FORCED to choose between LIFE, LOVED ONES and LIBERTY and a LONG PRISON SENTENCE for attempting to exercise their Constitutionally protected RIGHT to carry a firearm.
Is this the choice you wish to be faced with?
If not, then please sign up to demonstrate outside Weinberg's Teaneck office and help us disseminate the truth about what she has been doing in the NJ Senate. Please register for a time and date that works best for you. We will supply you with signs and banners, and plenty of fliers to hand out to the public. This will be a sustained effort, so we will need as many people as possible to sign up. http://www.nj2as.com/EVENTS?eventId=687261&EventViewMode=EventDetails
Here are our demands. They are simple and fair.
+ Separate FID card (no FID DL combination) – Having an endorsement on the DL is unacceptable because of multiple privacy concerns. Having the endorsement encoded on the DL, but not visible, is not acceptable because gun owners will not be able to purchase firearms or ammunition lawfully from out of state dealers.
+ Accountability in the permit process – With today's technology, there is no excuse for not having the ability to conduct a background check in 30 minutes or less. We are only asking that the issuing authority must issue the permit in 30 days or less , clearly more than enough time. The current 30 day provision is unenforceable because it does not clearly define "just cause for denial." Today, it is common for permits to take longer than five months to issue. This is unacceptable by anyone's standards. During the hearings, we had friendly conversations with several people that were technically our opposition. They were unaware of and were appalled by the delays. We are certain that if the people of NJ were polled to see how they felt about the delays in NJ, that they would be equally troubled.
+ Accountability for NICS – must be instant – sale must be allowed to proceed if not instant. It is remarkable that a NICS check is even required after the permitting process described above. It is entirely reasonable to expect that the instant check, be instant. We will not stand for any further delays. This bill allows for a robust system of FID and PPH confiscation upon the occurrence of a disqualifying event. Other states that function as a POC for NICS are completing NICS checks in less than one hour. There is certainly no excuse for an instant check taking longer than the Federally mandated three business days.
+ Fair appeals process for denials and failures to issue. This must include reimbursement of legal fees if the denial or failure to issue is overturned, otherwise it is not a process that is available to those who cannot afford an attorney.
+ Ability to conduct private background checks. There is no legitimate reason to mandate that private sales go through a dealer, especially with the existence of such a robust FID/PPH system. We need a method of conducting private NICS checks, where the buyer pre-qualifies by contacting NJ NICS on line and printing an authorization document. The authorization could be good for a limited time, perhaps ten days. The document would then be verified by the seller during the sale through the NJ NICS processing center. The check would be incentivized by giving the seller civil immunity for conducting the check.
+ No additional fees or taxes (Mandating that all sales go through a dealer adds approximately $50 per sale ($15 for NICS and $35 for the dealer to handle the process). Dealers will opt out of conducting private transfers if they cannot make a profit and they will opt out if it causes too much traffic in their stores. The private NICS system should be free. Certainly, if the argument is that it will prevent crime, the savings from the reduction in crime will more than pay for the system.
Thank you in advance for your participation. PLEASE use the link below to register for a date. More info to follow. A few hours each day is all we ask.
Frank Jack Fiamingo
President – NJ2AS
NOW IS THE TIME!!!
http://www.nj2as.com/EVENTS?eventId=687261&EventViewMode=EventDetails
About:
New Jersey Second Amendment Society – Our mission is to promote the free exercise of Second Amendment rights within the community and Legislature of New Jersey, to educate the community regarding the enjoyable, safe, and responsible use of firearms, and to engender a sense of camaraderie and fellowship among the members and their families. Visit: www.nj2as.com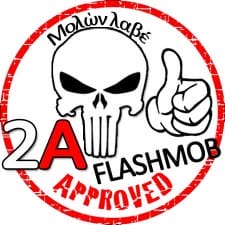 About 2A Flashmob: 
In an effort to motivate gun owners and Second Amendment Supporters to show up in person at important events and rallies AmmoLand Shooting Sports News is giving away FREE 2A Flashmob Patches to anyone who attends a protest, rally, open carry event, committee hearing at your state capital or a Moveon.org counter protest. (You may already be eligible)
Spread the word, get out, get active!