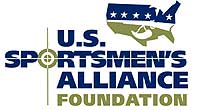 Columbus, OH –-(Ammoland.com)- Last week, hundreds of Maine sportsmen and women packed a legislative hearing in opposition to a bill that would have banned bear hunting with dogs and bear trapping.
The bill, LD 1474, was supported and backed by the Humane Society of the United States (HSUS).
At the hearing, members of the Joint Committee on Inland Fisheries heard testimony from dozens of Maine sportsmen's organizations and individual sportsmen and women including the Maine Professional Guides Association, Maine Trappers Association, and the Sportsmen's Alliance of Maine. After this testimony, the Committee unanimously voted that the bill "ought not to pass," – a move that will likely kill the bill for this session.
"Maine sportsmen and women made the difference in this battle," said Jeremy Rine, U.S. Sportsmen's Alliance in-house counsel. "Not only those who showed up at the hearing, but the countless others that called and emailed members of the Committee. These efforts were crucial to ensuring that the Committee was not influenced by the misinformation of the animal rights lobby.

While this is a great win for Maine sportsmen, it may just be the beginning of the fight to protect bear hunting and trapping in Maine. HSUS has threatened to take its anti-bear hunting agenda to the ballot for the second time in the last 10 years. In 2004, Maine citizens shot down a similar attempt to ban bear hunting with dogs, bear trapping, and bear baiting when HSUS went to the ballot with Question 2. The U.S. Sportsmen's Alliance was heavily involved in that campaign and will be monitoring this situation closely."
About:The U.S. Sportsmen's Alliance is a national association of sportsmen and sportsmen's organizations that protects the rights of hunters, anglers and trappers in the courts, legislatures, at the ballot, in Congress and through public education programs. Visit www.ussportsmen.org.