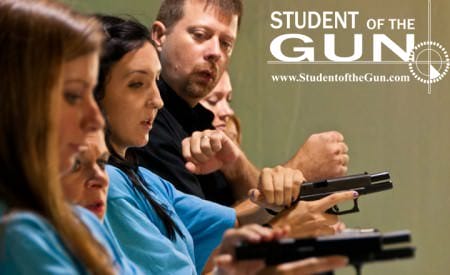 Biloxi, Mississippi — (Ammoland.com) – Whether you are the resident "gun guy" that everyone comes to for firearms advice, the person who just bought their first handgun, or someone considering a gun purchase, this Special Edition of  Student of the Gun Radio has something for you.
During this "My First Gun" bonus episode, Paul discusses numerous topics such as handgun actions, caliber choices, capacity, eye and ear protection, basic maintenance, training and practice and more.
Student of the Gun Radio airs every Monday at Noon Eastern and can be found by going directly to www.StudentoftheGunRadio.com.  SOTG Radio is a proud to be a part of the Firearms Radio Network.   Those using mobile devices can follow us with iTunes or Stitcher.
Student of the Gun is the #1 source for education, enjoyment and enlightenment of real-world firearms: training, videos, radio, books and articles. A beginner once, a student for life.  www.studentofthegun.com/radio
Student of the Gun: "A beginner once, a student for Life"