By SHWAT Founder Jonathan Owen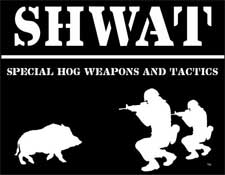 Abilene, Texas –-(Ammoland.com)- It's built like a tank, maximizes accuracy, is modular, uniquely mitigates recoil, and if looks could kill there'd be no need for a barreled action in it.
It is the Cadex Defense Strike Dual chassis.
Yes, I know, it sounds like propaganda. But seriously, when we set out to transform Grandpa's Gun into a tactical long range precision rifle capable shooting wild hogs and other game at 1000+ yards, we asked "What does it take to do it right, to take this project as far as we can go with it?"
We chose parts that we think you'd want to use, and went from there. Starting with Part 1 of this Grandpa's Gun Reborn project, you've already read about our selection of a Timney Trigger and Nighforce Scope. Now it's time explore the Strike Dual Chassis from Cadex Defense.
Read More: http://tiny.cc/37jjxw
About Special Hog Weapons & Tactics:
SHWAT is the new center of gravity for tactical hog hunting. Special Hog Weapons & Tactics is a dynamic, game changing lifestyle brand, fusing together the tactical, hunting and feral hog control communities. Quality content and connections are rapidly coming together through partnering with credible industry professionals. Vendors are licensing the SHWAT brand. Conversations are growing on Facebook, Facebook.com/SHWATteam. That quality extends from our community and contributors, including our sponsors and writers, bloggers and videographers. Visit: www.shwat.com